Social Emotional Learning Book Recommendations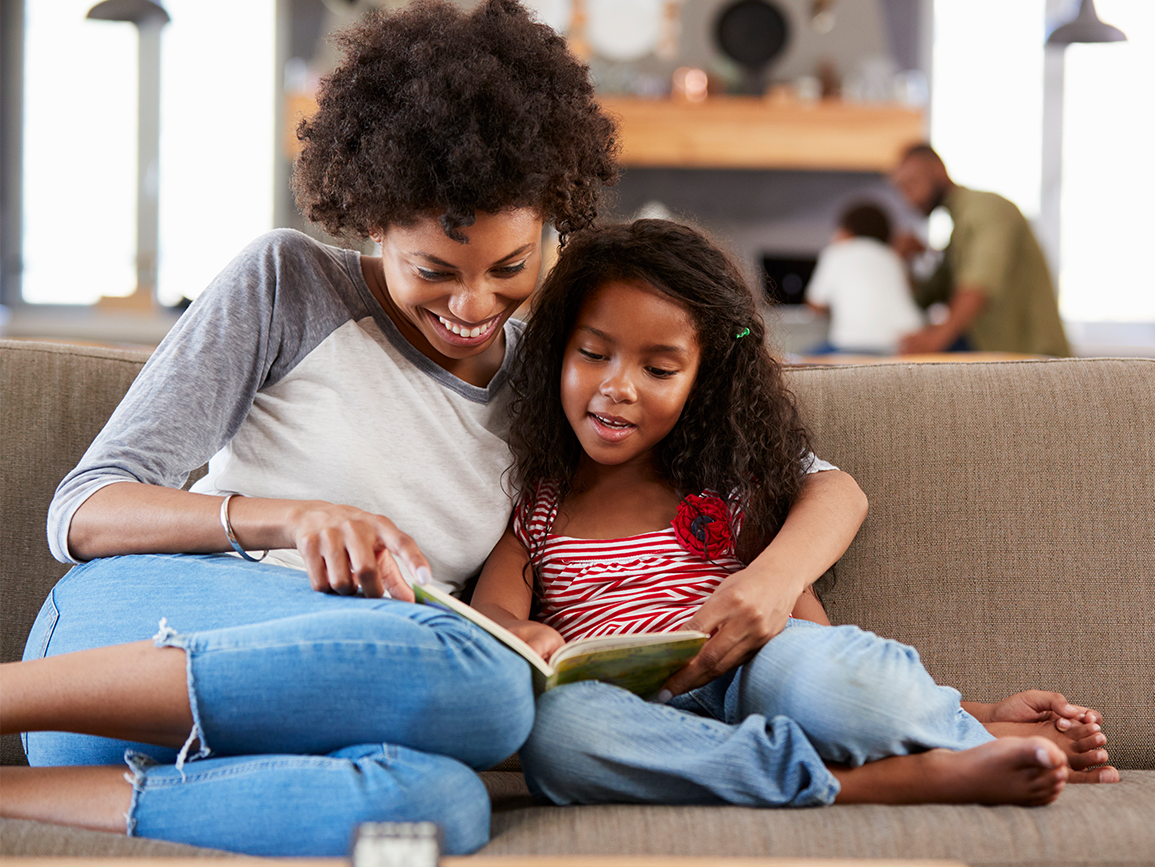 Kindness, teamwork, and self-confidence are all important characteristics of social emotional development in children. These are not skills that are fully developed at birth, but skills to nurture and grow throughout life. Books are a very helpful teaching tool for social emotional learning because they allow children to gain insight into the feelings and actions of others, and help to make connections with children's own life experiences. Our reviewers have found three new Growing Readers Books of Excellence that they think are an engaging way to do just that.
The Big Umbrella, Written by Amy June Bates and her daughter, Juniper, opens the door to conversations about kindness and inclusion with preschoolers as all are welcomed to find shelter under the growing umbrella. So Far Up, the infant toddler Book of Excellence is a fun and visually engaging story that highlights teamwork and resiliency. The bear quickly realizes he can't reach the cake on his own; rather than giving up, he gets help from friends who one-by-one work together to achieve their goal. Edward the giraffe and Cyrus the tortoise, in Giraffe Problems, the school age selection, help each other accept their unique physical features and find opportunities to support each other and be proud of who they are.
We hope you will find reading these books with your child a wonderfully simple way to engage in meaningful conversations.

The Big Umbrella Written and Illustrated by Amy June Bates, Co-written with Juniper Bates
PRESCHOOL
The Big Umbrella is an engaging book encouraging young children to be kind to those in need and to be socially inclusive towards others. Using the metaphor of an ever-expanding friendly umbrella adorned with a big smiley face, young listeners are shown how everyone can be included and cared for. The big umbrella enjoys being helpful, giving shelter, and "gathering people in." It doesn't matter if one is "tall, hairy, or plaid" – there is always room. With each turn of the page, children will delight in seeing who will be welcomed next under the big umbrella. Will it be a pet out in the rain? A ballerina on her way to dance class? Or a giant duck with huge feet? The Big Umbrella presents a sweet, joyous take on the timeless values of helpfulness and being a friend that young children will easily understand.
So Far Up Written and Illustrated by Susanne Strasser
INFANTS AND TODDLERS
So Far Up offers the reader a simple board book that includes valuable concepts and lessons. The bear first notices the cake in the window, only to realize that it is so far up while he is so far down. After receiving help from his friends, he learns that cooperation and kindness can help him meet his goal.
Giraffe Problems Written by Jory John, Illustrated by Lane Smith
SCHOOL-AGE
Edward is so self-conscious about his neck. He can't understand why it is so bendy, so narrow and, well, just so long. He has tried to disguise it, hide it, and dress it up. Just when Edward has used all his options, a friend comes in and helps him understand the purpose of his glorious neck.
NOTABLE BOOKS
Poor Little Rabbit Written and Illustrated by Jörg Mühle
INFANTS AND TODDLERS
This charming board book for young listeners encourages empathy after "poor Little Rabbit" scrapes his elbow in a fall. To care for Rabbit, little ones are taken through a series of simple empathetic actions – to blow on his boo-boo, fluff his ears, wipe his tears, etc. – which ultimately help Rabbit feel cared for and loved.
You Are a Lion! And Other Fun Yoga Poses Written and Illustrated by Taeeun Yoo
INFANTS AND TODDLERS
Learning to stretch, balance, and breathe becomes a fun game as author Taeeun Yoo leads the reader through a variety of yoga poses exercises. Children, and maybe adults too, will be roaring like lions, hopping like frogs, and stretching tall like mountains!
Piney the Goat Nanny Written by Leanne Lauricella, Illustrated by Jill Howarth
PRESCHOOL
Everyone wants to feel needed and helpful. This is a charming true story about a piglet who discovers that being helpful can happen in unexpected ways. Piney's gifts for comfort and caring are just what these baby goats need to thrive and grow!
We Don't Eat Our Classmates Written and Illustrated by Ryan T. Higgins
PRESCHOOL

Penelope, the little T. Rex, was very excited for her first day of school. But making friends proved difficult, especially when she ate them! Preschool children will relate to this funny story that teaches us to treat others the way we want to be treated.
A Stitch in Time Written by Daphne Kalmar
SCHOOL-AGE

There are few eleven-year-olds who are skilled in taxidermy and love all things geography, but Donut is both of these! Follow Donut as her adventuresome spirit leads her to discover friendship and family in a new way.
"I liked how the giraffe and turtle felt bad about their necks but then they made each other feel better about their necks."

–

Anav, 7
Categories in this article:
Topics in this article: