Has your child ever come home from school or child care and activated meltdown-mode?
School days can be overwhelming for kids. They're taking in new experiences, interacting with peers, and navigating new attachments with their caregivers at school. Similarly to how adults feel after a full day of work, where we're using our brains, interacting with others, and trying to keep it together–kids feel that too at the end of the day and it results in something called restraint collapse. Restraint collapse is what drives after school meltdowns.
The behaviors we see from restraint collapse can be frustrating, and often our first instinct is to address the behaviors in an attempt to make them stop. What kids really need in those moments is connection. When kids feel connected with us, they feel secure and safe to move through those tough feelings from the day and bring their bodies and brains back to baseline.
The Power of Connection
Now, you might be thinking
"Sounds great but my evenings are already chaotic and stressful! How am I going to add one more thing to my list?!"
Here's the thing: connecting with our kids happens in the small moments. It doesn't require a special outing, a day of 1:1 attention, or anything elaborate (and let's be honest–nobody has time for that on a weekday evening of trying to feed, bathe, and put kids to bed). You can fit in small connecting moments before school, after school, and before bedtime.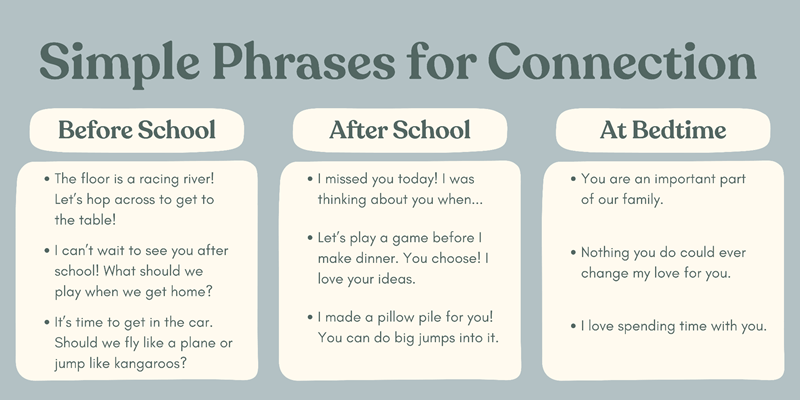 There are so many ways to connect with children, and you can choose what feels best for your unique child and family culture. Want more ideas? Alyssa Blask Campbell's book
Tiny Humans, Big Emotions
will help you navigate tantrums, meltdowns, and defiance in a way that supports emotional intelligence in children. It comes with a bonus guide,
50 Ways to Connect with Children.


We are also so excited to share that she will be joining us for our October Family Webinar, "Emotional Intelligence + Why It Matters".
Register today!