More than 80 Bright Horizons Clients Named to Working Mother's 2018 "100 Best Companies" List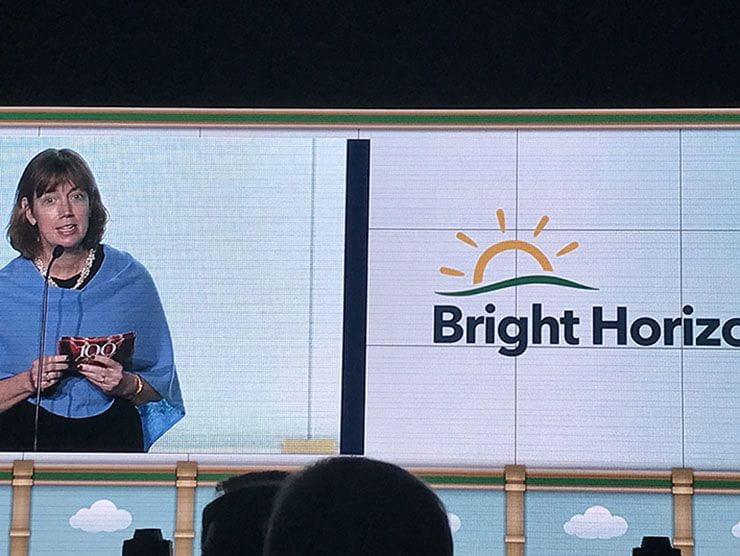 October 10, 2018 – Working Mother Magazine released its "2018 Working Mother 100 Best Companies" list and 82 of the companies, including all of the top 10 employers, are clients of Bright Horizons.
The 2018 Working Mother 100 Best Companies application includes more than 400 questions on leave policies, workforce representation, benefits, child care, advancement programs, flexibility policies and more. It surveys the availability and usage of these programs, as well as the accountability of the many managers who oversee them.
Of the 100 Best Companies this year:
Thirty-six percent have at least one company-sponsored, on-site child care center;

and 91 percent offer back-up child care.
In addition to the "100 Best" list, Working Mother also named 62 women to its 2018 "Working Mother of the Year" list. Forty-nine of the women on the list work for employers who are clients of Bright Horizons.
At the 2018 Working Mother WorkBeyond Summit October 8-9, Bright Horizons Chief Operating Officer Mary Lou Burke Afonso introduced the Working Mothers of the Year at the gala awards dinner. A mother of two daughters, Afonso spoke about the importance of companies that support women as leaders, as mothers and wives, and as pillars in their communities.
"It is both a challenging and an empowering time to be raising daughters, to support them as they find their voice, aspire to achieve careers, leadership, and parenthood, and to make a lasting difference in the world around them," Afonso said. "Every industry represented on this list has barriers that still remain for women. And every employer named to this list has been a leader in bringing those barriers down. We are proud to stand with these companies to help them be more as an employer and to help their employees be more of who they want to be."
"Each year, we look forward to celebrating the 100 Best Companies and shine a spotlight on the Top 10 Companies for the work they are doing on behalf of working parents and caregivers," said Subha Barry, president of Working Mother Media. "The programs and policies for working parents created by all of the 100 Best set a standard of excellence, and we applaud them for continuing to innovate and address the needs of this important talent sector."
The complete list of Working Mother's 2018 100 Best Companies can be found here. The 2018 Working Mothers of the Year are listed here.