Trusted Since 1993: Walgreens Child Care Center Celebrates 25 Years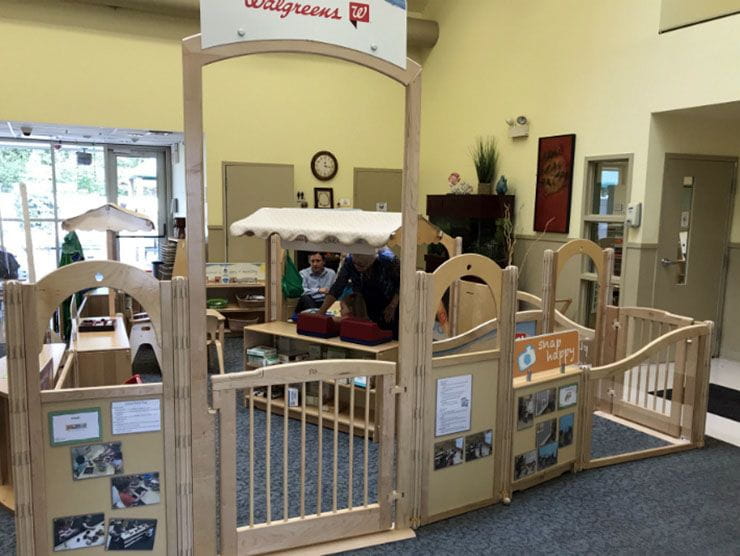 October 9, 2018 – At the Walgreens corporate headquarters in Deerfield, Illinois, the on-site child care center recently celebrated 25 years of operation with executives from both companies, as well as children and families from the center. Representing the Walgreens team were Kathleen Wilson-Thompson, Executive Vice President and Global CHRO; Tom Sondergeld, Vice President Global HRIS, Benefits and Mobility; Lisa Mansavage, Senior Manager, Benefits and Wellbeing; and several other key leaders.
The event featured face painters, balloon artists, music, dancing and food, and culminated with the unveiling of the new playground enhancements.
At a company that prioritizes trust, care, and accessibility for its customers, much of the corporate culture has been weaved into the Walgreens Child Care Center. A mini Walgreens play store inside the center allows children to shop for pretend spaghetti, toothpaste, and tissues, get their pictures developed at the photo center, and fill imaginary prescriptions at the pharmacy. Once a month, the Walgreens Center for Health & Wellbeing Research and the Healthy Living Fitness Center host activities for the children – from healthy eating to exercise.
With one classroom for each age group – infants, young toddlers, older toddlers, and kindergarten prep – the center offers compassionate care for the children of Walgreens employees. The nearby Bright Horizons at Lake Cook, which opened to the community in 2013, also has dedicated spots for Walgreens families.
At the center, extended families are an integral part of the children's learning experience. Twice a year, grandparents come in from all over the country to spend time with their grandchildren at special center events.
The center "family" is tight-knit as well. Four center staff members have been with Bright Horizons for more than 10 years. Toddler teacher Teri Wolfson has been with the center on and off since it opened in 1993. "She has retired three times when her own grandchildren were born, but couldn't stay away and has always come back!" says Center Director Denise Logan.