Cool STEM Learning at Center with Life-Sized Igloo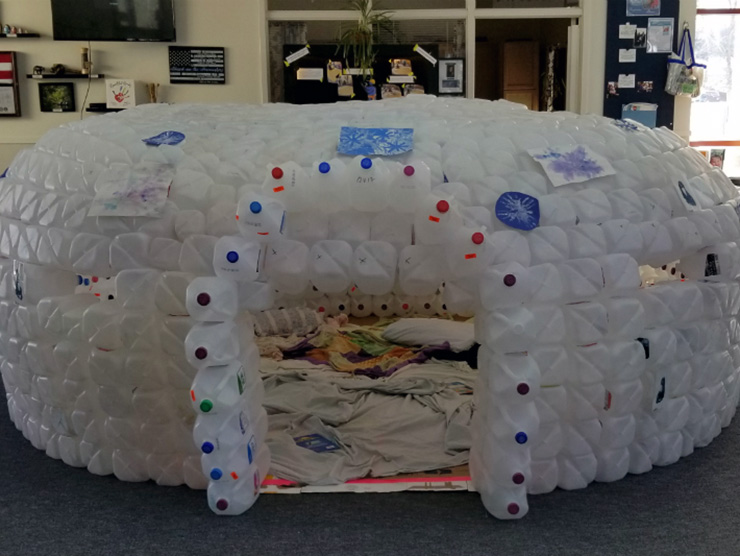 August 27, 2018 – If you're looking for a way to cool off in the summer, take a page from the book of the early educators at the Bright Horizons Child Care Center at Marshfield Clinic Health System who earlier this year, turned their center into the Arctic by transforming recycled milk cartons into a life-size igloo.
When the center staff decided to start a STEM project transforming milk cartons into an igloo, they had no idea that the project would create a life-size igloo that would inspire learning from infants to school-aged children and even expand to parents.
"Through a large collaborative effort of staff and families, this wonderful igloo, constructed entirely of milk jugs, was created to demonstrate how fun project work can be as we explore the many concepts of STEM and build a structure that everyone can enjoy," said Center Director Tonya Glamann.
The brainchild of two teachers, the project was led with support of staff members, leading to the construction of 877 milk jugs, with the help of 220 hot glue sticks, and taking 48 hours to assemble. Along with countless moments of laughter and memories from children, parents and staff alike, the igloo was a unique and innovative approach to STEM learning, inspiring the children to think scientifically. Even parents got to enjoy the igloo, as it was located in the center's lobby for all to see.
While the life-size igloo eventually "melted," the staff looks forward to creating a frozen castle next year to recreate the fun STEM project.