From the South Pole to the Classroom: Scientists Inspire Love for STEM Learning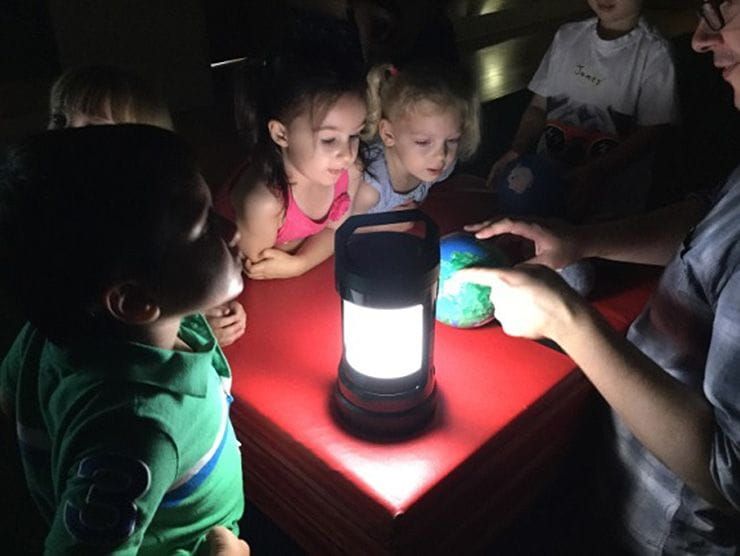 April 26, 2018 – Early childhood educators at Bright Horizons at Lakeview have taken an innovative approach to teaching science, technology, engineering, and math (STEM) by partnering with the scientists of the South Pole Telescope team to create the "First Discoveries Program."
The unique partnership was featured in the Chicago Sun Times during the 2017 Solar Eclipse and the group of scientists have regularly held "Discovery Days" to encourage STEM learning in the classroom, partnering with the teachers in the Lakeview Center to adjust lessons for the students ages 2 through 5 for more than a year.

"We are excited about sharing the First Discoveries program, and re-approaching the way science is taught at the earliest stages of education," said Joshua Sobrin of the South Pole Telescope team. "We're really encouraging students, teachers, and parents to view science as a powerful tool for understanding their own curiosities and intuitions - not as a collection of facts and cool tricks."

The South Pole Telescope Team collaborates with the teachers at Lakeview to plan Discovery Day lessons that align with the children's interests. Topics have ranged from magnetism, light and friction, to shadows and solar eclipses. To bring the STEM lessons to the classroom, objectives are determined, scientific inquiries are defined, and the tools needed for the investigation and discovery are outlined. From there, the lessons are adjusted to be developmentally appropriate to encourage learning for each age group.

The scientists have not only inspired a love of learning for the young children, they have also motivated the teachers to reimagine their approach to teaching STEM. In February, while a portion of the South Pole Telescope team was making major technological upgrades on their instrument, the South Pole Telescope, the teachers at Bright Horizons at Lakeview held their own Discovery Day to engage in STEM learning.

During this Discovery Day, the teachers explored the idea of friction, light and color, and the physics of construction. As a result, the early educators learned to approach STEM just as they approach literacy or social-emotional learning, recognizing that this is a joint process of discovery between student and teacher.

Teacher Sweta Sobrin inspired the beginning of this partnership and continues to make STEM approachable by sharing her hope for the program. "STEM education is something that can be done in all facets of our classroom, by all teachers. We put this idea into practice by challenging our teachers to create their own STEM activity that can be done in their classrooms, and can be scaled to different age groups. The results have been fantastic with teachers now feeling confident in their abilities as educators, and hopefully, we destigmatized early STEM education a bit."