SOM Unveils "Bright Space" at Transitional Family Residence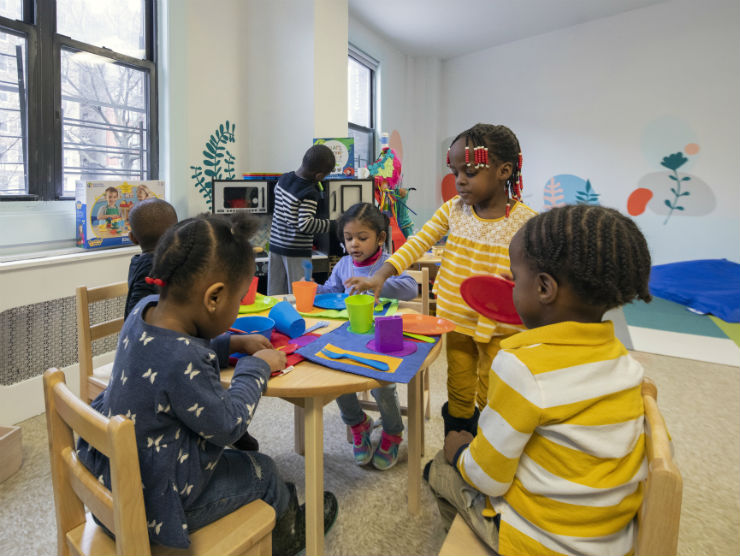 February 25, 2019 – Last week, Skidmore, Owings & Merrill LLP (SOM), in partnership with Bright Horizons and the Bright Horizons Foundation for Children, unveiled a Bright Space for children at the Regent Family Residence, an Upper West Side shelter that serves 130 homeless families, and a program of Volunteers of America-Greater New York (VOA-GNY).
The SOM-designed Bright Space consists of two rooms, one for teens and one for children, located in the former student lounge and the child care spaces.
Following a ribbon cutting, the two rooms were revealed to the children and teens who will benefit from the makeover, much to the delight of everyone in attendance including the volunteers from SOM, and volunteers and staff from Bright Horizons, the Bright Horizons Foundation for Children, and Volunteers of America.
SOM, an international design firm, funded the project, and staff from the SOM Women's Initiative and New York office donated their time and design expertise. Together with Bright Horizons and the Bright Horizons Foundation for Children, the project team transformed the two rooms into warm and engaging spaces for children in crisis. The child care room features new paint with nature-inspired graphics, flooring, furnishings, toys and educational materials. The teen room is complete with new couches, a TV, a built-in desk, and shelves for books, art supplies, games and décor. The rooms were purposefully designed to be welcoming and child- and teen-friendly. For school-age children, their room serves as an after school space to do and receive help with homework, and to simply relax in a quiet environment; for the youngest children, the bright colors and imagery, and distinct reading and play areas in their room invite them to play and explore.
"Projects like this give us an opportunity to connect more closely to our community," said Amy Garlock, senior architect at SOM and chair of the SOM New York Women's Initiative. "It was extremely gratifying to design a place for kids to feel at home—and we hope this will be just the beginning of an ongoing partnership with Bright Horizons Foundation for Children and Volunteers of America in New York City."
"Bright Horizons is excited to partner with SOM in making a difference in the lives of families and children in need," said Bright Horizons CEO Stephen Kramer. "It is wonderful to see that the firm is dedicated to using their talent to help yet another community, by creating two warm and age-appropriate spaces for youth at the Regent Family Residence. Their work will yet again brighten the day for the children and families who need their support."
Studies have shown that children of all ages thrive when they have a safe place in which to explore the world around them, filled with books, toys, and activities that are developmentally appropriate and provide an opportunity for them to discover the possibilities within themselves. Children experiencing stress especially need access to these kinds of safe, child-friendly spaces.
Tere Pettit, VOA-GNY's president and CEO said: "For families struggling with homelessness, the impact on the children is intense. The uncertainty during this period of their life is very difficult. These beautiful and functional renovated spaces within the Regent provide an immediate haven in which the children feel safe as well as inspired. The older children need the physical and emotional space to unpack the stresses of everyday life, to feel that they matter, and these beautiful rooms help accomplish that. You might say that the outer rehab of the rooms is reflective of the inner resources we are helping the children to build while in our care. We are so grateful to Skidmore, Owings & Merrill LLP, Bright Horizons, and the Bright Horizons Foundation for Children for their generosity and for giving the youth we serve the opportunity to just be kids."


About Skidmore, Owings & Merrill LLP
Skidmore, Owings & Merrill LLP (SOM) is one of the leading architecture, interior design, engineering, and urban planning firms in the world. Since its founding more than 80 years ago, SOM has earned a reputation for design excellence with a portfolio that includes some of the most important architectural accomplishments of the 20th and 21st centuries, and has been a leader in the research and development of specialized technologies, new processes and innovative ideas, many of which have had a palpable and lasting impact on the design profession and the physical environment. The firm's longstanding leadership in design and building technology has been honored with nearly 2,000 awards for quality, innovation, and management. The American Institute of Architects has recognized SOM twice with its highest honor, the Architecture Firm Award—in 1962 and again in 1996. The firm maintains offices in New York, Chicago, San Francisco, Los Angeles, Washington, D.C., Seattle, London, Hong Kong, Shanghai, Dubai, and Mumbai.
About Volunteers of America
Volunteers of America (VOA) has been at the forefront of social service since 1896, helping individuals and families in need overcome obstacles to living safe, healthy and productive lives. Locally, VOA is one of the largest providers of permanent, supportive housing in the nation. Tens of thousands of men, women, and children in need benefit from Volunteers of America-Greater New York's life-changing, often life-saving work, including the homeless and those at risk of homelessness, families affected by domestic violence, children with disabilities, individuals living with HIV/AIDS, veterans struggling to reintegrate, and older adults. It is the largest provider of supportive housing for veterans in New York.
Photo credit
©
Lucas Blair Simpson | SOM