Second Annual Recipe Contest Promotes Healthy Eating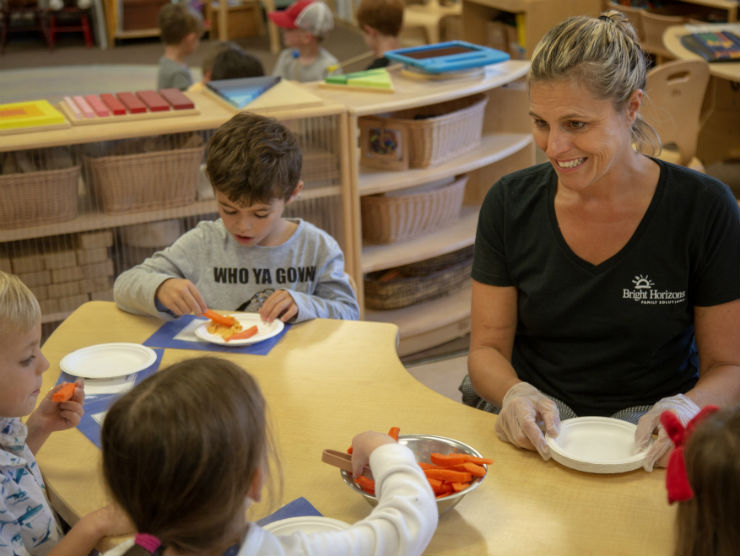 February 15, 2019 – Chef Delanya Young of Bright Horizons at San Clemente in San Clemente, California was named the winner of Bright Horizons' second annual nationwide recipe contest. The contest was held to encourage healthy eating habits in early childhood. The recipe contest was open to all chefs in the more than 700 early childhood education and preschool centers across the U.S., calling for the best healthy, "no-bake" snack recipe.
Inspired by the relationship with Partnership for a Healthier America (PHA), Bright Horizons continued its recipe contest as another way to help children to develop positive attitudes toward physical activity, nutrition, and healthy living. Chefs submitted their recipes, and when four finalists were chosen, a taste test was held at the company's Regional Manager Conference to determine the winner. Chef Delanya's Carrot Cake Energy Bites were named the winning recipe.
At Bright Horizons, the philosophy of focusing on the whole child includes helping them to make healthy food choices through the Well Aware curriculum and the commitment with PHA. The top four recipes were chosen based on healthy guidelines as established by PHA and Bright Horizons. Each of the four finalists' recipes were tested and reviewed by Bright Horizons nutritionist consultants before advancing to the final round. They evaluated the recipes based on contest requirements such as the use of whole grains; limited sodium and processed ingredients; no baking required, and being something that children would want to eat.
Carrot Cake Energy Bites
From Chef Delanya Young – Bright Horizons at San Clemente
*Recipe serves 20
Ingredients:
8 Medjool dates

2 cups shredded carrots

2.5 cups rolled oats

3 tablespoons maple syrup

1 tablespoon vanilla extract

1 tablespoon chia seed

1 tablespoon honey

½

tablespoon cinnamon

½

teaspoon fresh ginger

¼ teaspoon nutmeg

¼ teaspoon turmeric

Unsweetened shredded coconut flakes
Instructions:
Place dates in food processor and pulse until chopped.

Add ginger and pulse.

Add oats, carrots, chia seeds, followed by the rest of ingredients and pulse in food processor.

Place in fridge for 30 minutes or overnight to firm slightly and roll into one inch balls. Toss with coconut flakes and serve.
To encourage self-help skills, children can assist with rolling the mixture into balls and adding coconut flakes.