Roosevelt University Leaders Commemorate 20 Years of On-Site Child Care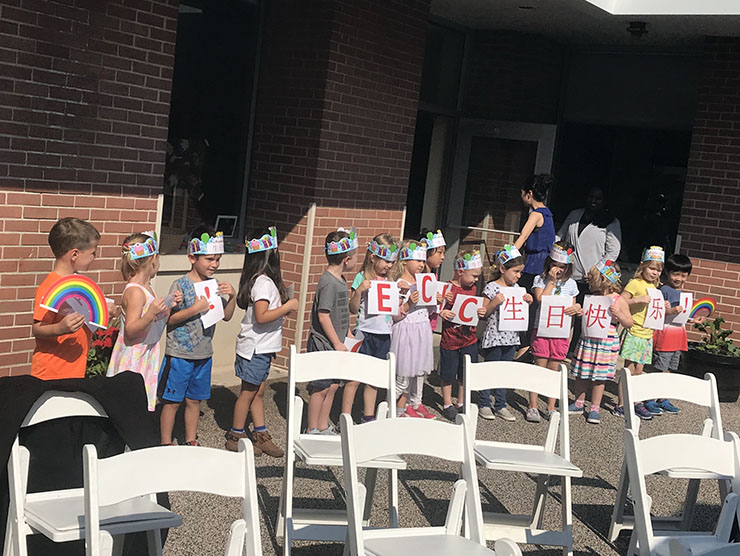 October 23, 2018 – At The Early Childhood Education Center at Roosevelt University in Schaumburg, Illinois, university leaders were joined by Bright Horizons executives to celebrate the center's 20th anniversary. From Provost Dr. Lois Becker and President Dr. Ali Ali Malekzadeh to CFO Andrew Harris and Dean of Education Dr. Tom Philion, the presence of such campus figures is a testament to the value the university places on providing on-site child care for the community.
Kindergarten students sang "Happy Birthday" to the center in both English and Mandarin to the captive audience – who had come together to reflect on the center's history, the relationship between the two organizations, and their commitment to continuing this important benefit.
The following day, the center held a family-centric anniversary celebration with balloon artists on stilts, live music, and even a train for children to ride on.
The ECEC is unlike any other child care center. Here, college students in a variety of majors can partake in field experiences and internships without ever leaving campus. And in turn, these students create unique learning experiences for the children enrolled at the center. Pharmacy majors lead age-appropriate science experiments; education majors introduce new ways for children to practice developmental skills, and environmental science majors have helped establish a garden outside the center.
"We really are part of the campus rather than a separate entity," explains Center Director Caterina Pannarale.
Established in 1998, the center is open to the children of anyone affiliated with the university – current and former employees and students, and residents of the Schaumburg area.