Centers from Coast to Coast Celebrate Read for the Record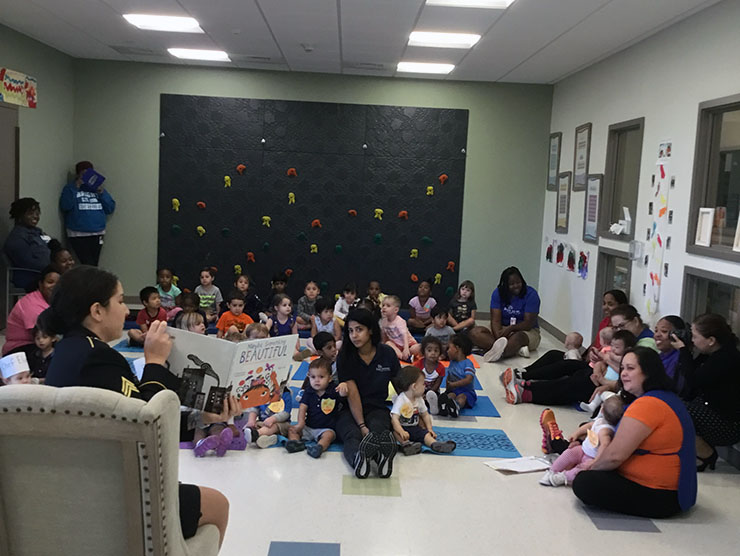 December 14, 2018 – Bright Horizons centers across the country celebrated JumpStart's Read for the Record® event to promote childhood literacy. Throughout the nation, centers took part in the world's largest shared reading experience, reading Maybe Something Beautiful written by F. Isabel Campoy and Theresa Howell and illustrated by Rafael López.
At Bright Horizons at Metropark, Mayor John E. McCormac read to the students and then helped the preschoolers to beautify their playground with chalk art. Inspired by the story, the children painted a bench to thank the Mayor for taking the time out of his busy schedule to read to them. At Bright Horizons at Lawrenceville, Mayor Christopher Bobbitt made a special visit to classrooms.
In Massachusetts, at Bright Horizons at Newburyport, the center celebrated throughout the entire week. Representative James Kelcourse, Mayor Donna Holaday. In addition members of Newburyport Police Department and Newburyport Firefighter Department made special appearances throughout the week.
In Estero, Florida, Little Wheelz Child Care Center for Hertz was joined by Rick Frecker, Executive Vice President of Hertz, and Susan Jacobs, Senior Vice President of Marketing at Hertz, who helped the center read the book more than 20 times. After reading, the Hertz executives helped the students to create their own piece of art that will be now on display at Little Wheelz.
In Tampa, Florida, Army Veteran Sargent Angela Westover read to the students at the Moffitt Child Development Center, and the celebration was featured in CENTRO Tampa.
At Bright Horizons, through the Language Works curriculum, students are in a literacy rich environment in which love of language, books, and reading is cultivated through listening, speaking, reading, and writing, and the annual Read for the Record celebration fits perfectly into this curriculum.