Steps Toward Improved ECE Teacher Preparation and Development Opportunities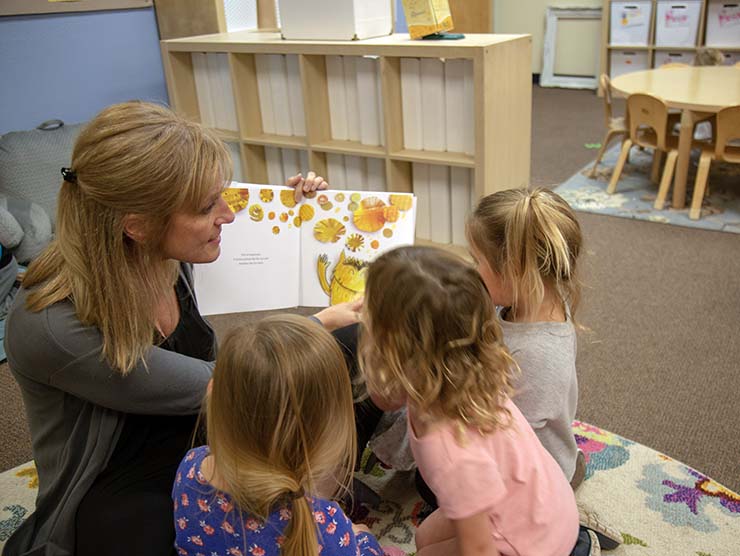 March 12, 2019 – Bright Horizons Vice President for Education and Development Rachel Robertson and Bright Horizons Director of eCDA and Workforce Partnerships Staci Hitzke recently wrote an article in Exchange Magazine titled, "Finding Our Way." Robertson and Hitzke explore the steps needed toward improving the preparation and development opportunities for teachers in the field of early childhood education.
It was 1991 and I was working as an assistant teacher at a Montessori-inspired early learning center. I remember sitting in the staff lounge talking to another assistant teacher who was pursuing her Child Development Associate. "What is that?" I recall asking, not knowing what kind of education would lead to a career in early childhood. That question started my educational journey. Over 25 years later, my education and role have changed quite a bit, yet the early childhood educational landscape hasn't changed all that much. ndash;Rachel Robertson
Like so many in the field of early childhood education, at Bright Horizons we have strong convictions about learning.
We are rooted in the belief that everyone at every age deserves a great education. Learning should not be a privilege, but something all have equal access to. (Access meaning financially, logistically, and personal motivation, confidence, and learning skills.)
Similarly, we are acutely aware of the importance of early childhood education and the sophistication of early development. (It is part of what makes our work so inspiring!)
Finally, we are committed to supporting the professionalization of our field and doing what we can to support and advocate for an environment in which early childhood teachers build a lifelong career.
While clearly related, we know that these convictions do not currently exist in harmony. Our field is fragmented, fraught with tensions and divergent opinions, and quite under-valued. In this environment, efforts to change and move forward can be intimidating. And, yet, for the sake of the children and the adults who want to support, nurture, and teach these young children, we must find our way.
Where We Are
Our collective knowledge of the importance of early development is ever increasing, putting more value on the knowledge and skills of an early educator. We know the first five years are especially crucial as the brain is at its most impressionable, forming more than one million new neural connections every second (Zero to Three). We also know that studies have shown quality early education is vital in helping to guide a child's social, physical, emotional, and cognitive development, build a foundation for lifelong learning, and fortify them against future life challenges (Center on the Developing Child). Yet the question remains, how do we define what is needed to prepare our teachers to provide this undeniably important care and support for learning?
Here are some of the current and conflicting realities of our field:
The qualifications for early childhood educators vary by state, with some requirements being at or barely above a GED or high school diploma and others requiring bachelor's degrees or higher. A number of studies cite the strong influence of teachers in early childhood settings. Yet as a field, there is not an empirically based definitive set of competencies, skills, or professional practices required of all early childhood teachers.
In response to some of the research and quality standards established by organizations such as the National Association for the Education of Young Children and the National Academies' Transforming the Workforce for Children Birth Through Age 8: A Unifying Foundation, various city and state child care licensing agencies have increased education requirements for teachers. Unfortunately, few systems and processes have concurrently evolved to make the required education accessible and affordable.
The number of people pursuing education degrees has declined from 21.6 percent in 1975 to 7.6 percent according to the U.S. Census Bureau.
That number is even lower for those specializing in early childhood education. According to the National Center for Education Statistics, early education degrees account for less than 3 percent of college degrees.
We know our work is important. Children and families are depending on us, yet there are vast differences across the field regarding current education and experience expectations. Additionally, access to post-secondary education has decreased, and public perception of early childhood educators has not risen alongside the expectations for early learning.
Even when we do consider the available post-secondary options, we are faced with more questions about what competencies and knowledge are most critical. The field requires a complex set of skills, and while we know that postsecondary education is an important part of the solution, we don't know what every teacher needs to deliver the best care and education. And, even if we had a set of agreed-upon competencies, how can the necessary, and right, education be accessed?
No wonder it feels like a herculean effort to do anything different. But, we are optimistic; there are promising developments indicating broad progress may be on the horizon.
What We Know
As a result of the outcry for increased early childhood teacher qualifications, researchers are turning their eyes to teacher preparation programs, what skills and competencies they develop, and their effect on teacher practice or children's learning.
A recent report by Bellweather Education Partners, Let the Research Show, states: "To truly improve the quality of early educator preparation, there must be a new body of evidence explicitly designed to support program improvement. At the same time, the policy environment that programs exist in must also shift: Programs must have the flexibility, incentives, and resources to use that evidence to boldly experiment with new and innovative preparation models and methods. Without these changes, preparation programs, early educators, and young children will remain stuck in the current reality."
While the current research does not conclude that all early educators require post-secondary education, it does indicate a need for new teacher preparation program standards and a national consensus on the resulting competency outcomes.
Additionally, while the research on early childhood teacher preparation programs is in its infancy, we understand good adult learning. Determining how these tried and true methods (e.g. having specific objectives for the content being taught, providing opportunities to apply new learning, coaching with immediate feedback, practicum experiences) can be built on and expanded into teacher preparation pathways will increase opportunities for success, provide a variety of preparation methods, and honor effective learning practices.
Finding Our Way
NAEYC has brought the teacher education discussion to a national level as part of its Power to the Profession initiative, which seeks to define the early childhood profession by establishing a unifying framework for career pathways, knowledge, and competencies, qualifications, standards, and compensation. They, along with other early childhood thought leaders, researchers, and educators recognize the overwhelming need for standardized and effective teacher preparation programs to ensure high quality environments, experiences, and teacher practices that benefit children and families. One such thought leader, and a passionate advocate for professionalizing the early childhood field, is Stacie Goffin of New America, who is a member of the Bright Horizons Education Advisory Council. Her blog series, Moving Beyond False Choices for Early Childhood Educators, speaks to how "a new framework is needed for understanding and addressing the defining issues of preparation and education, compensation and status, and diversity and inclusivity."
With all of this knowledge, we at Bright Horizons decided it was time to do something bold. The time was right for a few reasons:
Like many other organizations, we have an educational reimbursement benefit that allows our employees the opportunity to pursue their higher education goals. Traditionally, participation has been low.
Additionally, for over ten years, we have offered a no-cost CDA preparation program exclusively to Bright Horizons employees. During that time—through trial and error— we have experienced the types of study skills and supports needed in both this profession and an online learning program to help students be successful. Our program has thousands of graduates who have earned their CDA and remain in the field, while growing their careers.
We are an authorized provider of continuing education units, enabling us to work with college partners to create articulation agreements earning college credits for those employees interested in pursuing early childhood degrees. We began as a company focused on client-sponsored early care and education and over time have expanded to also offer additional work-life benefits. One of the other services we offer is management of tuition assistance programs and educational/career counseling for each employee pursuing post-secondary education. We knew this infrastructure would be an important part of any degree program we designed.
Considering our goals as an early care and education company, the current state of the field, and insight from our internal programs, in the summer of 2018 we launched a program to provide 100 percent no-cost college tuition for all full-time employees in our early education centers and preschools seeking a degree in early childhood education. The key to this program is the lack of out-of-pocket expenses: tuition, fees, or books. And unlike a traditional tuition reimbursement program, employees pay no expenses up front.
The initial reaction when first announced was unforgettable.
The preliminary announcement was made to center leadership at a national conference. The reaction was emotional, with immediate shock, awe, and pure joy. One colleague, with tears running down her face and a mouth wide open in disbelief, choked out, "Lives just changed."
We believe this benefit is a significant step toward removing one of the biggest barriers to continued education for those employees committed to careers in early education and those who are hoping to enter the field. As one director said, "I need to call my teacher. She was about to quit because her parents would not pay for her to go to school for early childhood education." For the first time, we are giving teachers at every level and stage the ability to continue their education and grow their careers.
This is Only the Beginning
At Bright Horizons, we believe our teacher degree program is the next step in an exciting journey to increase educational opportunities for teachers.
We will continue to provide our no-cost CDA preparation program as a first, middle, or final education step.
We will support and offer quality practicum experiences, pairing learning with application. We will also offer mentoring, coaching, and advising throughout career development.
We consider our new program to be a major financial investment and are confident it will pay off with even higher quality in the classrooms, while encouraging our educators to stay in the field they love and turn it into a career.
We know that when people feel confident and competent, they are also committed and happy.
We know there will be lessons learned along the way and this program will evolve.
We look forward to ongoing discussions about what we can all do to keep moving our field forward, and will remain attentive to ongoing research and results that provide new knowledge and insight about teacher preparation programs.
For us, this is where we are starting, not where we are ending. If you would like to read more, the announcement of the program can be found here.
References
Center on the Developing Child. (2007). The Science of Early Childhood Development. Retrieved from https://developingchild.harvard.edu/resources/inbriefscience-of-ecd/
Goffin, S. (2018). Moving Beyond False Choices for Early Childhood Educators. Retrieved from https://www.newamerica.org/education-policy/edcentral/moving-beyond-false-choices-earlychildhood-educators/
LiBetti, A. (2018). Let the Research Show: Developing the Research to Improve Early Childhood Teacher Preparation. Retrieved from https://bellwethereducation.org/sites/default/files/Bellwether_Let%20the%20Research%20Show_FINAL.pdf
United States Census Bureau. (2019). PUMS Data. Retrieved from https://www.census.gov/programs-surveys/acs/data/pums.html Zero to Three. (2019). Brain Development. Retrieved from https://www.zerotothree.org/espanol/brain-development
Copyright © Dimensions Educational Research Foundation. Reprinted with permission from Exchange Press. All rights reserved. Visit: www.ExchangePress.com or call (800) 221-2864.