PepsiCo CEO Takes Time Out to Read to Employees' Children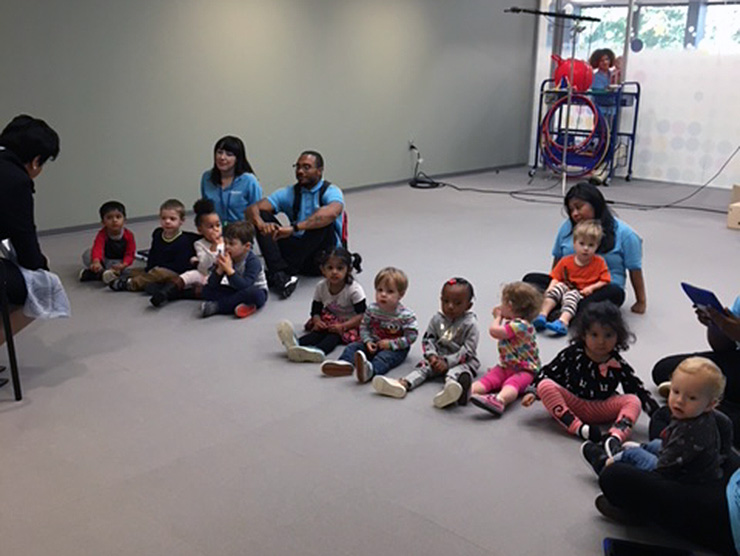 November 2, 2017 – Each year, millions of children and adults, including Bright Horizons centers, participate in Jumpstart's Read for the Record®. Now in its 12th year, the annual campaign gathers more 2 million people together around the world to read the same book on the same day. At Bright Horizons centers across the country, local celebrities – from newscasters to public officials – read aloud to children from infants to preschoolers.

At the recently opened Pepstart, the Bright Horizons center at the PepsiCo headquarters in Purchase, N.Y., PepsiCo Chairman and CEO Indra Nooyi joined more than 20 children of her PepsiCo colleagues for a read-along of this year's book, Quackers by Liz Wong. Quackers is about a kitten who grows up believing he is a duck. The story encourages understanding, acceptance, and embracing every individual as their own person (or critter).

Nooyi engaged the children by asking them questions after each page, and leading a discussion at the end of the story about what it meant to them.

"She was so interactive with the children and kept them enthralled throughout the Read for the Record event," said Deanna Intorcia, center director. "She greeted each child individually and answered any questions they had for her – either about the book or about her. They couldn't stop talking about it for the rest of the day."

Read for the Record brings much needed attention to inequities in early childhood education, inspires adults to read with children, spurs policymakers and organizations to take action towards transformative change in early education, and puts books in the hands of children across the country.