Bright Horizons at University City Opens for Penn Medicine Employees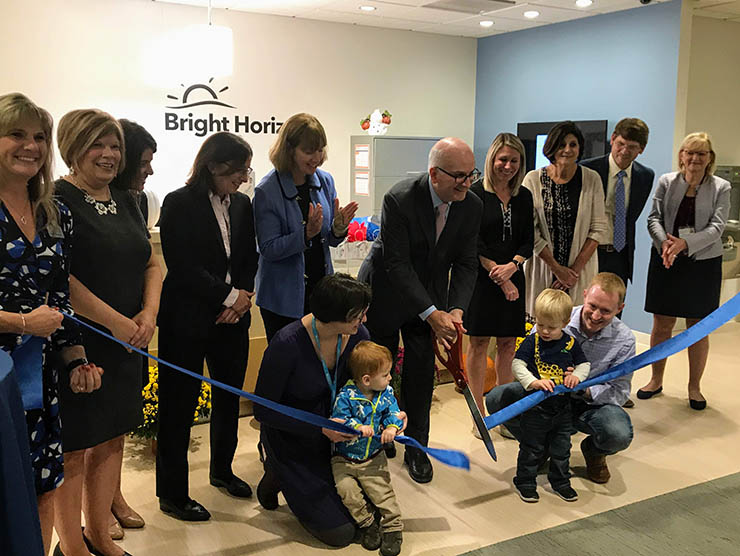 November 6, 2019 – In May, Bright Horizons at University City opened on the Penn Medicine campus – welcoming the children of the faculty, physicians, and employees of the health system. Penn Medicine is one of the world's leading academic medical centers, consisting of the Perelman School of Medicine at the University of Pennsylvania and the University of Pennsylvania Health System. With more than 40,000 employees, Penn Medicine is one of the largest private employers in Philadelphia.
The Bright Horizons and Penn Medicine partnership brings together two organizations whose missions are aligned in their focus on providing the highest quality care. Bright Horizons educators are focused on inspiring children not just to learn, but to think, wonder to develop future leaders and citizens. The new center at Penn Medicine reflects this approach to learning by featuring a Movement Matter Zone, Art Studio, STEM Lab, an outdoor playspace with a large handpainted mural of a nature scene.
"Our new center at University City will raise the bar for what is possible in quality early education and what is possible when it comes to supporting working parents," remarked Mary Lou Burke Afonso Bright Horizons' Chief Operating Officer, North America. "And that is an impact that will spread beyond the children who will call the place home as they start their journey in life. It will spread throughout the community and through generations."
The new center is staffed by many seasoned and long-term Bright Horizons employees who understand the needs of the Philadelphia community, because they not only work there, but live there as well. Lisa Cianfrani, the center's director, recently celebrated her 19th anniversary with Bright Horizons, and has been a director in the Philadelphia area for 12 of those years. She and other leaders from both Penn Medicine and Bright Horizons gathered together last month to celebrate the center with an official ribbon cutting ceremony.
"Working parents are crucial members of the Penn Medicine workforce and we are always looking for ways to provide them with the support they need to integrate their personal and professional lives," said Lisa Bellini, MD, MACP, senior vice dean for Academic Affairs and a professor of Medicine in the Perelman School of Medicine at the University of Pennsylvania. "Having a child care option available on campus enables a level of flexibility that helps people make their lives work."
The ceremony was held in the evening to accommodate the families of the community. Families toured the center, met with staff and joined the children in the art studio for an activity.