New Director at Bright Horizons at Discoveries Learning Center Tested During First Few Months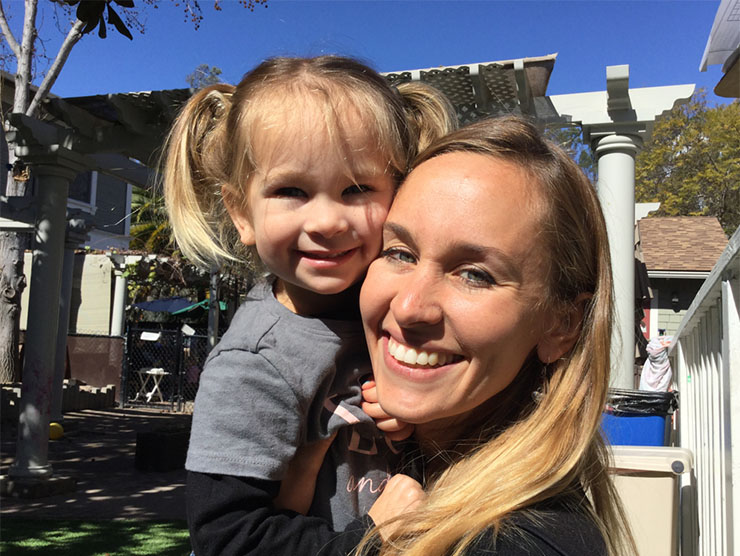 May 23, 2018 – For Rina Lange, the new Director at Bright Horizons at Discoveries Learning Center in Santa Barbara, the first several months on the job were more like a position with FEMA than as a child care center director. Rina had just started in her position after a two-year maternity leave, when the Santa Barbara-area was first hit with wildfires and then devastating mudslides. During this period, Rina not only supported her families and staff but also opened the center doors and welcomed families from Patagonia's child care center in nearby Ventura.
Rina started in November 2017 and soon after, the surrounding area where the center is located was engulfed in wildfires making it impossible for children to be outside. Both dangerous air quality and ash debris made the playground and outdoor areas completely unusable, posing some serious challenges for Rina and the center staff.
The center follows the "Outdoor Classroom Project" model, which means children spend substantial periods of time outside – as much as 80% of their day – participating in a full range of activities, including ones that are traditionally thought of as "indoor activities." This required Rina and her staff to get creative with indoor spaces.
As outdoor classrooms are more common in that area of California, Rina found a lot of support from other directors dealing with the same issues and got some good ideas for how to adjust the program. However, it became clear that there was too much damage to the outdoor playscapes and after days of intense fires, all of the turf was covered in ash so the center had to close for seven days while the damage was assessed, remediation was done and the center was cleared by state licensor.
"It was definitely a challenge for us but at the time, our biggest concern was for our families and teachers who were impacted by the fires. So many people were being forced to evacuate and it was a really scary time for everyone in the area," Rina said. "We were so grateful that everyone was OK and thankful to our families who definitely understood why we had to close."
But just as soon as the center re-opened from the fires, the area was hit again, this time with some of the most devastating mudslides the area has ever seen. While the center itself was not impacted, many center families and staff experienced some type of damage and everyone in the area was impacted by the closing of 101, the main highway.
This included employees at Patagonia who were unable to get from their homes in the Santa Barbara area to the company's headquarters in Ventura. Patagonia has its own self-operated child care program but Patagonia and Bright Horizons have always had a good working relationship. So when Patagonia reached out to see if some of their employees could use the Bright Horizons Discoveries Learning Center until the roads opened back up, Rina and her Regional Manager Sara Hannah, were happy to help.
"Like you see with any natural disaster, all of us in this in this area really came together to support one another. There was so much devastation and so many people lost so much," said Sara. "Patagonia has been such a big part of this community and like us, they are known for supporting their employees and their families. When we heard that they had people who couldn't get to the Patagonia center, I knew Rina and her team would be able to provide them with a temporary option so they could continue to work."
"Our employees were anxious for a sense of routine and community, and Bright Horizons at Discoveries Learning Center graciously provided our staff with a safe place to bring their children," said Sheryl Shushan, Director of Global Family Services for Patagonia. "The kids were thrilled to play with friends again and parents were relieved to connect with other parents and have some time to focus on work. We are fortunate to be a part of a strong community that pulls together when things get tough."
Rina says that she was happy to play a part in helping out – even in a small way – and that the children had a great time meeting new friends. After an event-filled first few months, she has fully adjusted to her new position and grateful for the support of the center families and the community.
"Those first couple of months were definitely not what I had anticipated when I took this role," she says. "But I am so fortunate to have an incredible team here at the center. I could not have gotten through it without them and I am so grateful for their passion and dedication to what they do."