Bright Horizons Holds Nationwide Recipe Contest Encouraging Healthy Eating for All Ages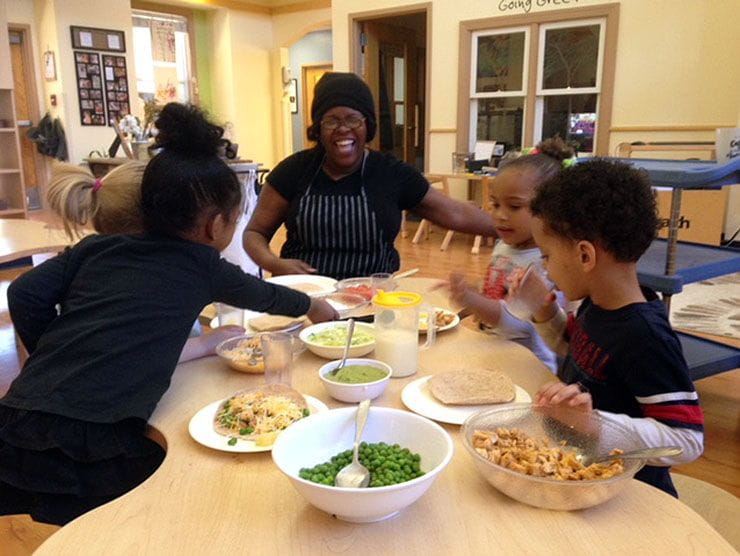 March 26, 2018 – Chef Tonya Wilson of Bright Horizons at the Forum in Raleigh, North Carolina, was named the winner of Bright Horizons' first annual Nationwide Recipe Contest. The contest was held to highlight recipes that encourage healthy eating habits in early childhood. The recipe contest was open to all chefs in the more than 750 early childhood education and care centers across the U.S., calling for the best, healthy "no-bake" snack recipe.

Chefs from coast to coast submitted their recipes, and when four finalists were chosen, a taste test was held at the company's Regional Manager Conference to determine the winner. Chef Tonya's guacamole was the winning recipe. As the winner, her recipe has been added to the company's healthy snack menu and will be featured in the June edition of Spark magazine – Bright Horizons education and development department's publication.

Inspired by the renewed commitment with Partnership for a Healthier America (PHA), Bright Horizons launched the recipe contest as another way to help children to develop positive attitudes toward physical activity, nutrition, and healthy living.

Chef Tonya explained how vegetables are her top priority when focusing on nutrition: "Children eat meat, carbohydrates, and fruit without struggle," she said. "Young children usually eat what they see their leaders (parents and teachers) eating with enjoyment. Most days I incorporate vegetables into the main dish so that the children eat vegetables even when they don't choose side vegetables."
Garden Works Guacamole
From Chef Tonya Wilson – Bright Horizons at the Forum
*Recipe serves 20
Ingredients:
14 avocados
½ onion
½ cup lemon juice
1 teaspoon chili powder
1 ½ teaspoon salt
½ cup fresh spinach
¼ cup cilantro
1 teaspoon garlic powder
¼ teaspoon cumin
1 roasted and seeded poblano pepper
18 naan or whole wheat pita
Instructions:
Cut the avocado in half and remove pit.
Scoop the avocado into a bowl.
Finely chop spinach, onion, cilantro, and poblano pepper.
Combine with all the other ingredients.
Cut and warm pita – use for dipping.