Musical At-Home Learning Activities Announced for
Bright Horizons Radio on Pandora®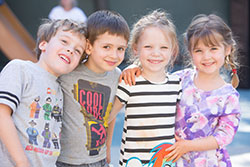 [WATERTOWN, Mass., August 2016] - Bright Horizons Family Solutions® released three new musical learning activities that can be used while listening to Bright Horizons Radio on Pandora®. The Bright Horizons Education and Development Department developed the new musical activities to help ignite all areas of child development including intellectual, social and emotional, motor, language, and overall literacy.
"From birth, parents instinctively use music to calm and soothe children, and to engage and interact. But music can also impact child development, improve social skills, and benefit kids of all ages," said Linda Whitehead, Ph.D., Senior Advisor to the Education and Development for Bright Horizons. "We were excited to develop these activities that parents can do with their children while listening to the Bright Horizons station on Pandora and we are sure that they will be fun and engaging for the children and their parents."
Music has many benefits for children including learning cooperation, sharing, compromise, creativity, and concentration, skills that become valuable as they enter school, face new challenges, and begin to form friendships. Parents can now incorporate music into their child's world at home with the release of the three new At-Home-Learning Activities found below:
For Infants and Toddlers: Kitchen Band: Fun with Pots and Pans
For Preschoolers- Recycled Materials Family Band

For School-Age Children- Drawing to the Sensations of Music
Through the musical activities for every age and the free resource of Bright Horizons Radio on Pandora®, Bright Horizons is providing tools that parents can use to encourage learning in the home.