Moffitt Cancer Center's Child Development Center Re-Opens with Brand New Facility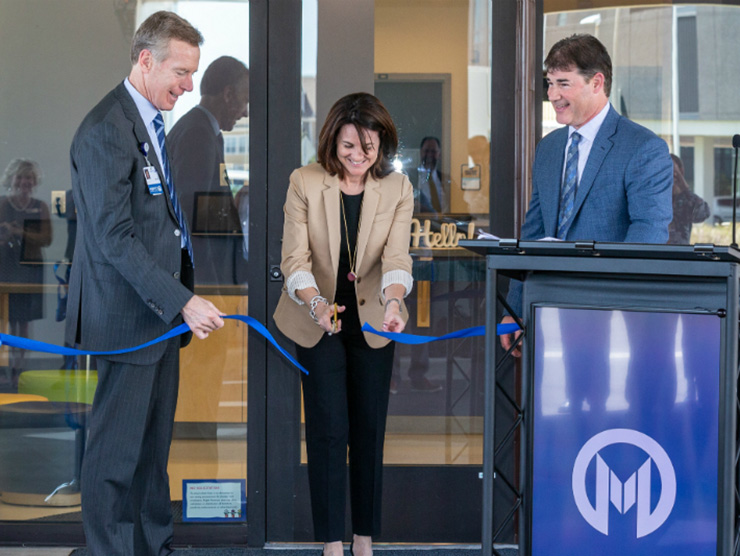 May 31, 2018 – After more than 20 years of providing care to the children of Moffitt Cancer Center team members, the Bright Horizons-run Moffitt Child Development Center (CDC) opened in a brand new facility earlier this month, with space for 150 children.
The center has always accommodated the common 7am-7pm nursing shifts by being open from 6:00am to 7:30 pm. That's two hours longer than most other child care centers. That is an important feature to Moffitt, an organization that places a priority on work-life balance and recognizes that team members juggle many demands in their lives. Knowing their children can be in a safe and caring place for their full work shift is essential to that being able to happen.
"Moffitt strives to offer the flexibility and benefits needed to help us do our best for our patients – and our loved ones," says Andrea Mathews, Moffitt HR Program Administrator. "As many of us can relate, being a parent is one of life's most rewarding adventures, but as the saying goes, 'It takes a village.'"
With a predominantly clinical and female workforce that serves cancer patients 24 hours a day, 365 days a year, ensuring staff are able to do their best work while maintaining a healthy balance with the other parts of their lives has always been a top priority for Moffitt. The on-site CDC ensures that working parents have child care they can trust and rely on – even in the midst of a hurricane. Moffitt also provides their team members with back-up child or elder care through Bright Horizons Care Advantage program.
Moffitt Chief Financial Officer Yvette Tremonti, the mother of four Moffitt CDC graduates, spoke about the new Child Development Center at its grand opening event.
"My oldest started at the center in 1998 when she was just 8 weeks old," Tremonti says. "It was not easy being a new mom, but I remember the peace of mind I received from having my daughter so close. I could stop over on a break or check in on her if she wasn't feeling well."
"I often say that having on-site child care at Moffitt was the key that allowed me to stay in the workforce and advance my career. Yet even 20 years later, many of the challenges of being a parent remain the same. It can be a struggle for working parents to find quality child care – to find a place they trust with teachers and staff they can count on."
Moffitt's family-friendly policies consistently earn the hospital a spot on the list of Working Mother 100 Best Companies as well as Tampa Bay Times' Top Workplaces.