Employees Stay Connected to the Bright Space in McAllen, Texas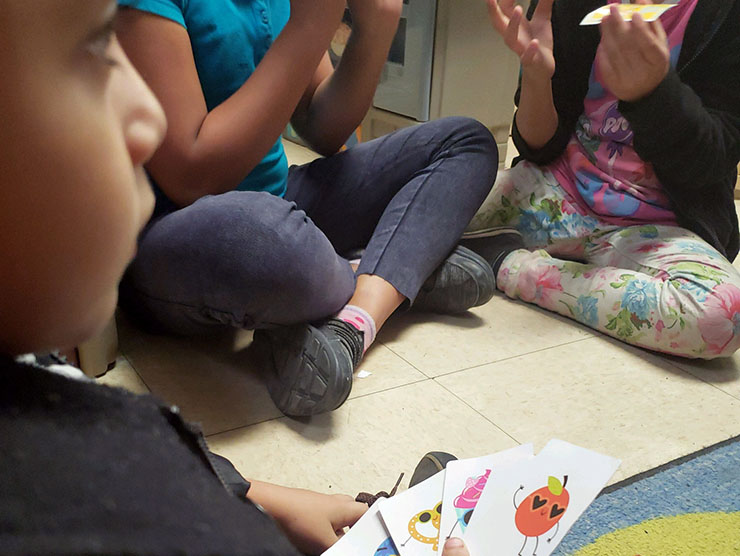 November 13, 2018 – Bright Horizons Regional Manager Sofia Everett and Lisa Salas, Director at Bright Horizons at Houston, recently made a visit back to the Humanitarian Respite Center Restoring Dignity Bright Space in McAllen, Texas that they, and a team of Bright Horizons volunteers, helped create this summer for migrant children and families at our nation's southern border. Sofia and Lisa are the Bright Space Connectors – volunteer liaisons between the agency staff and Bright Horizons employees – for the space and have maintained a relationship with Sister Norma Pimentel and the Bright Space since it was created.
"When we arrived back, children were at tables coloring, on the floor playing with blocks, and some were sitting and making bracelets," Lisa says. "It was what a Bright Space should be for children."
Since opening in July, more than 2,500 people have passed through the Bright Space, including up to 260 children in just one day. On average, there are often up to 65 children using the space at one time. Three volunteers from Children's Disaster Services who were on site during Sofia and Lisa's visit had been working in the Bright Space from 10 a.m. until 7 p.m. every day for the last 11 days. Sofia and Lisa talked with the volunteers to hear how things have been going. The volunteers explained that they clean and sanitize the toys every night and make a fresh batch of play-dough to bring the next day for the children.
"As we were talking to them, they shared with us that they try to clean up as much as they can every day, but have been a little limited with cleaning supplies. So we pulled out our mops, magic erasers, Lysol spray, and more, and began to help clean the space during the time we had there."
Sofia and Lisa also asked them to create a wish list of supplies that they could relay back to their colleagues and the Bright Horizons Foundation for Children. Before they left, they also purchased some supplies and bins, as well as a special thank you gift for all of the volunteers who are helping the Bright Space be what it should for children on a daily basis.
See also: