McAllen Bright Space Featured in Exchange Magazine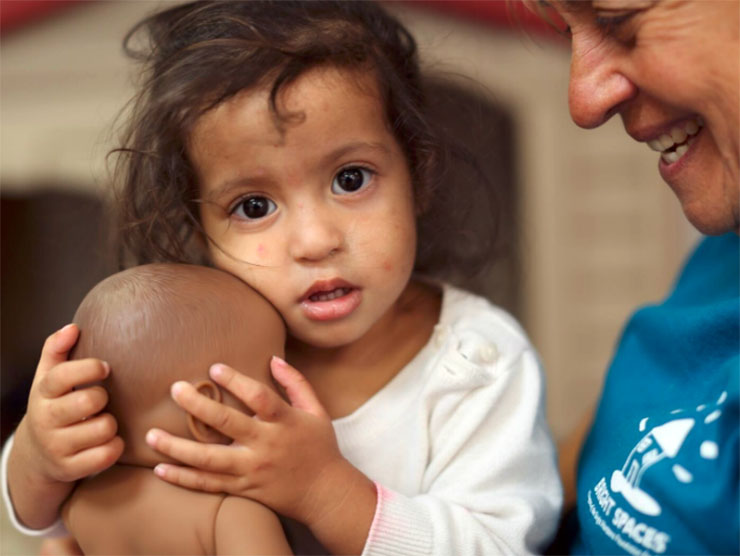 September 20, 2018 – The Humanitarian Respite Center Restoring Dignity Bright Space in McAllen, Texas was featured as the cover story of the September/October issue of Exchange Magazine. The issue includes the below feature article written by Bright Horizons Foundation for Children National Director of Bright Spaces Ileen Henderson, which details the journey creating the Bright Space, as well as an interview with CEO Stephen Kramer about how important it was for Bright Horizons to support the children and families in need.
Dreaming of Rainbows in Future Homes; Establishing a Bright Space for Immigrant Children
By Ileen Henderson
McAllen, Texas, is a place very few Americans had heard of until a few months ago. Now its hotels swell with immigration lawyers, advocates, and caring volunteers who are signing up in droves. They are making time to travel to this American border town to chop vegetables, mop floors, sort clothes, and fill plastic bags with hygiene products.
As the asylum seekers released from Immigration and Customs Enforcement—some wearing ankle bracelets to track their location, some recently reunited with their children, all thirsty, hungry, unwashed, terrified, and exhausted—file in to the Humanitarian Respite Center, they are greeted with applause from volunteers and staff and welcomed in Spanish by Sister Norma Pimentel of Catholic Charities, the center's guiding light. This amazing place is just what its name says: a respite, a place to feel safe and be cared for, if only for a brief moment. Within hours or days, these families will set out on long bus rides to continue their brave journey to find a safe place to enjoy the freedoms of life, liberty, and the pursuit of happiness for themselves and their children.
Upon arrival, children are fed first. Scared, hungry, dehydrated children eat soup made that morning with love by volunteers. Then the adults eat. After that, they wait to use the two showers, select fresh clothing, see a volunteer doctor or medic if needed, stock up on essential supplies and snacks, and then leave again for the bus station that will take them to reunite with their family members across the United States.In late June, I traveled to McAllen to work beside these committed volunteers and respite staff who embody the best of the values of the U.S. and its citizens. The work being done to create a Bright Space at the Humanitarian Respite Center and many other places and projects across the country that reflects our morality and humanity and allow us to show our best selves.
Creating a Bright Space at the Texas Border; Determining Design and Content
Earlier this summer, when hearing of the disturbing events in Texas, Bright Horizons CEO Stephen Kramer publically committed Bright Horizons Family Solutions and the Bright Horizons Foundation for Children to making a difference for the children and families crossing the border in McAllen. I was honored to be charged with determining how best to utilize our resources and employee generosity to have an impact on these children. My goal was to create a Bright Space to replenish their joy, one that allows them to return—if just for a few hours—to their deserved childhood.
Looking over the scant and disorganized toys in the corner, culled from donations over many months, I knew that there was much to be done. Over nearly 20 years, the Bright Spaces program has helped design trauma-informed Bright Spaces in a variety of settings across the United States. We have the knowledge and expertise to help children experiencing the toxic stress of poverty and homelessness, and now detention and family separation.
Texas Center Director, Lisa Salas brought her child development and Spanish language skills to the project by connecting with the staff, the children, the families and the array of caring volunteers we met to ensure the Bright Space met a variety of needs.
I started by talking to the incredible staff and volunteers from around the world who have come to support the efforts here in McAllen. I was moved to tears by the commitment, generosity, and insight of these individuals who selflessly stopped the wheels of their lives to help.
When children arrive at the Respite Center, they are fearful at first. Holding the hand of their mother, father, or sibling, they look around the room with cautious hope. I observed the children at play and spoke with them through translators. Hungry for all of the childhood pleasures, they used stubs of crayons to create pictures of love, home, and family. They built towers, houses, and cars with leftover pieces of broken toys. They were remembering the homes they left—the vaca, the casa, the gato—and still dreaming of rainbows in future homes they have yet to be allowed to discover. I was struck by the inherent resilience of childhood shining through in their faces.
Applying what science and experience has taught us about how to mitigate trauma, and after conversations with the children and staff and observations of play and general traffic patterns, I chose to focus on the things I know can help children experiencing trauma, such as:
familiar toys and activities, so they can enjoy something soothingly familiar to remind them of home; items and designs that will help build a sense of safety and security; and a design that supports building strong supportive relationships by encouraging interactions with caring adults, family, staff, and volunteers who can show in the moment that they sincerely care about the child.
Opening the Space for the Children
As the Bright Horizons Bright Space team began our set-up, we announced in Spanish to the families why we were there and what we were going to do. We told them that we understood how dedicated they were to their children, how much their future meant to them, and that we too, and many others who could not be there, wanted to help them care for their children. We described the play area we would be creating and asked for their support as we worked. As faces lit up with understanding, they turned to us and began to applaud and call out "Gracias," with eyes beaming with gratitude. This moment will stay with me, and it buoyed our team through the exciting and exhausting process of creating the Bright Space.
Relying on lessons learned from previous Bright Spaces projects, and determined to focus on sustainability, this talented team crafted a space filled with rich opportunities for dramatic play, art, music, literacy and relaxation. Using resources and materials donated by early childhood vendors and generous Bright Horizons employees and families, we provided a space rich in activities, but not over stimulating, challenging but not frustrating. There are spaces to share trusting relationships with caring adults but also space to be alone, reflect, and hear their own voices.
As the team of Bright Horizons volunteers worked, children came and went in the space, playing, resting, reading, writing, and engaging with the parents, staff and volunteers. Everything they did taught us more about what they needed, what was a good fit, what we should take out, put away, or extend. We were all working together to achieve the right balance of safety and joy. We added a supply cabinet for replenishing materials so that they could have variety, activity kits for volunteers to spend easy quality time together with the children, and mirrors to help children remember their own happy faces.
A group of 100 new arrivals walked in, and as the applause of the staff greeted them, their eyes fell upon the new, richly layered play space. Adult eyes lit up, but not like the eyes of the children who walked through the space, initially afraid to touch, not sure what was allowed, but holding their breath with excitement. After a sustaining meal, a shower, and a fresh change of clothing, they were back to discover all that this special world had to offer them. As I watched with my colleagues, I was thrilled to see each area fill with children and volunteers and come alive with the beauty of childhood.
To commemorate the new addition to the HRC, children helped Sister Norma cut a ribbon and officially opened the "Restoring Dignity Bright Space." We joined staff, volunteers, and asylum seekers to break bread as one family—because everyone was a family for that moment. We are all travelers on the road to making our world a better place for ourselves and for generations to come.
My hope for our country has been refreshed, a land built by immigrants seeking a better life. I was delighted to encounter people reflecting the best of our country's values and to watch as this spirit was extended to our resilient new neighbors. Volunteers of all faiths and ideologies from across the world have traveled to McAllen to do whatever they can to show friendship and support to our new arrivals who have suffered unknown and unimaginable hardships to get here.
This Bright Space is just one of many places where children and families can heal from the trauma of violence, poverty, and displacement. As we work to prevent these challenges, this Bright Space can serve as a symbol and a reminder that there is so much good in the world—and as Mr. Rogers would say, "when things seem to be going wrong, look for the helpers." Perhaps we can all commit to doing one small thing, whatever we are able to do, to remember these children in McAllen and the children in the U.S. and the world whose lives are a constant struggle.
Author: Ileen Henderson, national director of Bright Spaces, has been a key Bright Spaces staff member since October 2011, but a volunteer leader since 2002, when she served as project leader for the 20-site Philadelphia Bright Space Project. She is also the creator and CEO of My Baby's First Teacher, a parenting program for homeless mothers. Before joining the Bright Spaces program, Henderson was at Bright Horizons for 20 years as the center director for the McNeil Child Development Center. Her past professional experience includes adjunct professor at Temple University; NAEYC validator; American Montessori Society consultant/presenter; director of High Risk Pediatric Center; and founder of New Hope for Art. Henderson has a master's in education (early childhood education) from Xavier University and a bachelor's in counseling and rehabilitation from Penn State.
You can read the entire article in the September/October issue of Exchange Magazine (the article starts on page 28), or online by clicking here.
Copyright © Dimensions Educational Research Foundation. Reprinted with permission from Exchange Press. All rights reserved. Visit: www.ChildCareExchange.com or call (800) 221-2864.