Linda Mason Honored for Achievement in Entrepreneurship at
the Boston Chamber of Commerce Pinnacle Awards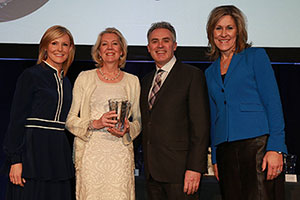 Watertown, Mass. January 27, 2017- Chairman and Founder of Bright Horizons Family Solutions, Linda Mason was honored by the Greater Boston Chamber of Commerce as the recipient of the 2017 Pinnacle Award for outstanding achievement in entrepreneurship. The Pinnacle Awards honor business and professional women in Massachusetts who have demonstrated excellence in entrepreneurship, management, and lifetime achievement.
Linda Mason and her husband, Roger Brown, founded Bright Horizons with the goal of providing high quality child care at work sites. Together, they created a company with the mission to nurture each child's unique qualities and potential, support families through strong partnerships, and collaborate with employers to build family-friendly workplaces. Additionally, they aimed to create a work environment that encourages professionalism, growth, and diversity, while also growing a financially strong organization. Now, thirty years old, Bright Horizons has grown to become a leading provider of early education and preschools, employer-sponsored child care, back-up care, educational advisory services and other work/life solutions.
As Linda Mason has told first year hires at Bright Horizons when giving her speech on how the company was founded, "When my husband Roger and I created the company, we recognized the need for high quality child care, and created Bright Horizons with a philosophy focused on quality with values. We built an institution that stands the test of time, and I am proud that as Bright Horizons has grown over the last thirty years, our quality has only improved. It is an honor to be a recipient of this award, and I am so proud that our Bright Horizons family continues to serve families and employers throughout the world."
For more information on the Pinnacle Awards, click here.
About the Pinnacle Awards
The Pinnacle Awards luncheon was started more than 20 years ago by the Chamber's Women's Network and has become one of the premier business gatherings in the region, attracting more than 1,000 attendees. The awards are designed to honor leading women for outstanding achievement in the workplace, demonstrated leadership that has made a difference, and a commitment to enhance the quality of life in the region.
About Bright Horizons Family Solutions® Inc.
Bright Horizons Family Solutions® is a leading provider of high-quality child care, early education and other services designed to help employers and families better address the challenges of work and family life. The Company provides center-based full service child care, back-up dependent care and educational advisory services to more than 1,000 clients across the United States, the United Kingdom, Ireland, the Netherlands, Canada and India, including more than 150 FORTUNE 500 companies and more than 80 of Working Mother magazine's 2016 "100 Best Companies for Working Mothers." Bright Horizons has been recognized sixteen times as one of FORTUNE magazine's "100 Best Companies to Work For" and is one of the UK's Best Workplaces as designated by the Great Place to Work® Institute. Bright Horizons is headquartered in Watertown, MA. The Company's web site is located at www.brighthorizons.com.