Early Childhood Teachers Receive Prestigious Industry Award for Excellence in Early Childhood Education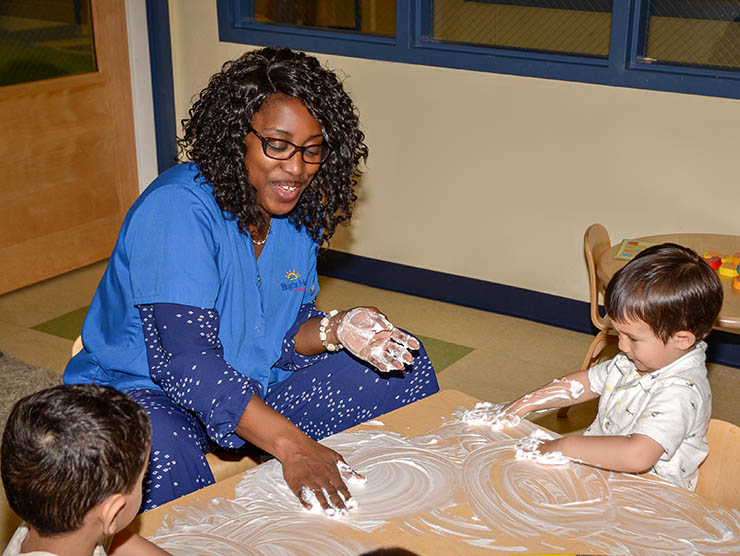 September 24, 2019 – Sixteen Bright Horizons teachers from across the United States were named winners of the Janice Hill Memorial Award, an award named in memory of Janice Hill, a teacher at Bright Horizons Campbell Hill Child Care Center for 10 years who dedicated her life to children and families before she died of cancer in 1998.
Each year, the Janice Hill Memorial Award recognizes teachers from among the more than 30,000 who work at Bright Horizons® child care and early education centers across the nation who demonstrate excellence in early childhood education, build supportive relationships with families and have a strong commitment to the field of education. Janice Hill Award Recipients have made an enormous impact in the lives of both the children and the families they serve, demonstrating an unmatched commitment to children and deeming them exceptional leaders in the early education field.
Bright Horizons honored the recipients with the prestigious award at regional ceremonies held across the country. The winners listed below were recognized by their peers, child care center directors, and parents of the children in their care.
Winners:
(click on the teacher's name to watch a video – new videos will be added each week)
Samantha Nero, Bright Horizons at Yale West Campus
Shamima Hossaini, Germantown Child Development Center
Lisa Westberry, Citicorp Family Center
Norma Espino, SMU Child Care Center
Jennifer (Faye) Clarke, New York Presbyterian Midtown
Melissa Jemison, Bright Horizons at River East
Judith Richey, Bright Horizons at St. Joseph Mercy Hospital Oakland
Jean Douglas, Kid's Space at Haemonetics
Aneesa Balz, Marshfield Clinic
Prestine Miller, Kids Connection
Maribel Alvarez, Bright Horizons Minneapolis at Gaviidae
Jessica Springer, Chestnut Hill Academy
Debbie Lee, Discoveries Learning Center
Luke Stager, College Hill Children's Center
Talita Moala, Papillon Preschool
Debra Harry, Bright Horizons at West 63rd
For more than 30 years, Bright Horizons early education centers and preschools have been helping children around the world develop confidence and a passion for learning. Bright Horizons is committed to the field of early education and to practices that guide each child's social, physical, emotional, and cognitive development. Bright Horizons' emergent curriculum approach is designed for this purpose, enabling teachers to tailor activities and projects for the specific interests and skills of each child in the class, with the goal of preparing students for success in school and in life. For more information on our curriculum, click here.