Bright Horizons Plays Vital Role in the Implementation of Employer-Supported Child Care in India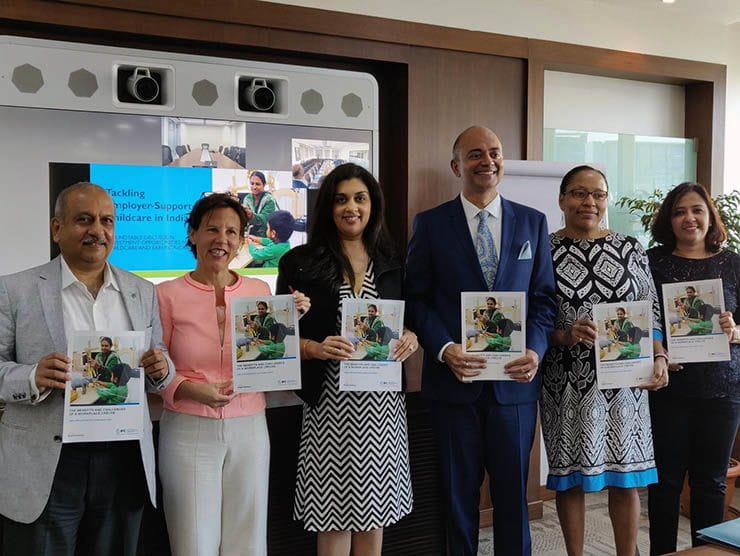 June 6, 2019 – Last month, a group of early education and child care experts, business leaders, and financial investors convened for a roundtable discussion in Mumbai, India. The topic of conversation was how employers in India are responding to the government-mandated child care benefits available to employees after the birth or adoption of a child. Bright Horizons operates two child care centers in India for children. One supports employees of Cisco and the other, Goldman Sachs employees.
Bright Horizons Director of Global Initiatives Andrea Wicks Bowles, who led Bright Horizons' participation in the study on India's new Maternity Benefit (Amendment) Act with the International Finance Corporation (IFC), participated in the forum. Bright Horizons and the IFC, along with Goldman Sachs, J. Sagar Associates, and NASSCOM, collaborated on a survey of nearly 300 employers in India to determine if and how employers are responding to the crèche benefit mandated in the of India's Maternity Benefit (Amendment) Act – which requires worksites with more than 50 employees to provide a child care and the ability for mothers to visit their child up to four times per day.
The resulting report, "The Benefits and Challenges of a Workplace Crèche," outlines India's unique policy approach and employers' initial response to the 2017 Maternity Benefit (Amendment) Act. It also provides recommendations and suggested approaches as companies respond to this new crèche component in the Amendment.
"The 2017 Maternity Benefit (Amendment) Act provides a significant opportunity in India—both for working parents to remain in the workforce and have access to reliable and quality child care and for businesses to benefit from a workforce that is focused, engaged, and productive," wrote Bright Horizons CEO Stephen Kramer in the report's foreword. "We have watched our clients—including several employers in India—make child care an important part of their employee effectiveness strategies and experience significant positive impacts to their recruitment and retention efforts as a result. By providing access to child care solutions, employers will eliminate a major source of stress, worry, and distraction for their employees."
To download the full report, click here.