Outdoor Bright Space Opens in Salt Lake City Thanks to Jim Greenman Award Recipient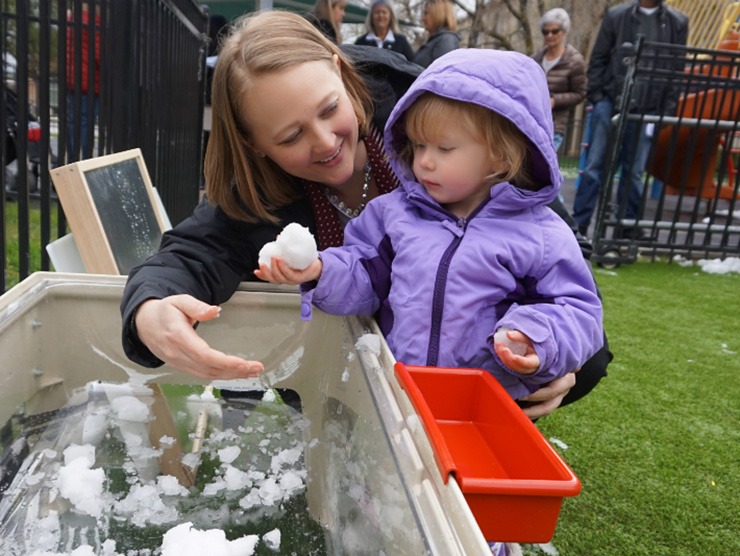 June 7, 2018 – Jim Greenman Award Winner Linda Bartleson, Division Vice President at Bright Horizons, inspired the creation of the outdoor Bright Space at The Road Home at Palmer Court in Salt Lake City. In April, Utah Community Action and The Road Home unveiled the new Bright Spaces playground in conjunction with Bright Horizons and the Bright Horizons Foundation for Children.
The outdoor Bright Space will serve infants and toddlers at Palmer Court. Some features of the playground include a toddler climber, an enclosed space with an outdoor mat for infants to explore, an outdoor Kaplan drum set, a pergola that functions as canopy over the sandbox, and a music set.
Staff will utilize the outdoor space for family enrichment activities, which include supporting the physical development of children in the program and building parent skills through supportive instruction and modeling.
The Road Home at Palmer Court provides permanent supportive housing for people who have experienced chronic homelessness. At this housing complex, case managers provide onsite supportive services to help residents remain stable in housing by connecting them with community resources. Community partners are vital in the success of this housing program. Utah Community Action, which serves more than 2,000 children per year through Head Start and Early Head Start programs, has collaborated with The Road Home at Palmer Court since 2009 to provide an Early Head Start classroom.
"Jim's Greenman's legacy will live on in our work for years to come as we continue to support children by instilling positive self-concepts and self-esteem; provide nurturing environments; and support the development of strong families," Bartleson said. "It seemed fitting to open the outdoor Bright Space at the Road Home given Jim's love for outdoor spaces and the need in Salt Lake City for programs to support homeless children."
"We are so grateful for the opportunity to partner with Bright Horizons, Bright Spaces, and The Road Home to create an engaging, beautiful, and trauma-informed play space at Palmer Court," said Jennifer Godfrey, Utah Community Action Interim Chief Executive Officer.
"The children's laughter as they play brings joy to everyone we serve. We thank Bright Horizons, Bright Spaces, and Utah Community Action for their amazing partnership in building this beautiful new playground," said Matthew Minkevitch, The Road Home Executive Director.
The Bright Spaces program is the flagship program of the Bright Horizons Foundation for Children it provides warm, enriching places in shelters and community agencies where children and youth can build caring relationships, heal from trauma through play, and experience the joy of childhood. This outdoor Bright Space was made possible by Bartleson, winner of The Jim Greenman Award – an honor given for being a true child care advocate and leader who has made a lasting impact on children. With the award, Linda was given funding to the start a Bright Space, choosing The Road Home at Palmer Court.