Bright Horizons Innovators Receive Great Place to Work For All Leadership Award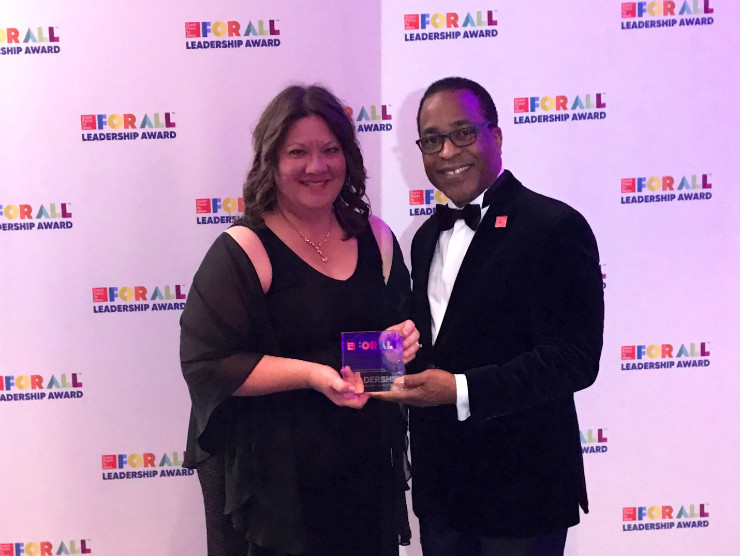 February 28, 2019 – Three Bright Horizons innovators were recipients of the second annual Great Place to Work® For All™ Leadership Award. Director of Enterprise Solutions Suzanne Krause, Account Director Courtney Luongo and Academic Solutions Consultant Tracey Bingham were honored for their work in implementing Bright Horizons' Horizons Teacher Degree Program. They were honored at a gala dinner in San Francisco along with other top innovators from companies on Fortune's annual list of the 100 Best Companies to Work For, 100 Best Workplaces for Women, 100 Best Workplaces for Diversity, and 150 Best Small and Medium Companies to Work For.
Nominated for being the driving forces in implementing the Horizons Teacher Degree Program, the program Bright Horizons launched in 2018 that allows teachers to earn an associate and bachelor's degree for free. Krause, Luongo and Bingham played a critical role in helping Bright Horizons to inspire "Innovation By All" – where every employee feels inspired to take part in the innovation process. The trio is among 52 award recipients recognized by Great Place to Work for their contributions to their company's business that help it fully live its values in service to customers, employees, and stakeholders.
"We are so proud of Suzanne, Courtney and Tracey for their teamwork and thought leadership behind this program that has been wildly successful and will impact careers paths for teachers and program quality in our centers well into the future," said Chief Executive Officer Stephen Kramer. "Through Suzanne's exemplary leadership and innovative ideas, she was able to design the Teacher Degree Program to not only meet the custom needs of our employees, but to drive employee engagement and increase long-term center staff retention. Courtney's expertise, dedication and leadership had a huge impact on the implementation and launch of this impactful benefit. Tracey is being honored for her incredible relationship-building skills, securing strategic school partners that would deliver the best possible program to our employees."
The awards gala kicked off the 16th annual Great Place to Work® For All Summit™, February 26-28 in San Francisco. In recognizing the honorees, Great Place to Work CEO Michael C. Bush said: "We are honored to celebrate your shining examples of Innovation By All—the individuals and teams who have successfully created new products or built more inclusive cultures, and who have led their organizations to more fully maximize the human potential within their workforce."
In 2018, Bright Horizons Chief Operating Officer Mary Lou Burke Afonso was a recipient of the inaugural Great Place to Work For All Leadership Award.