Bright Horizons COO Receives Inaugural "Great Place to Work For All" Leadership Award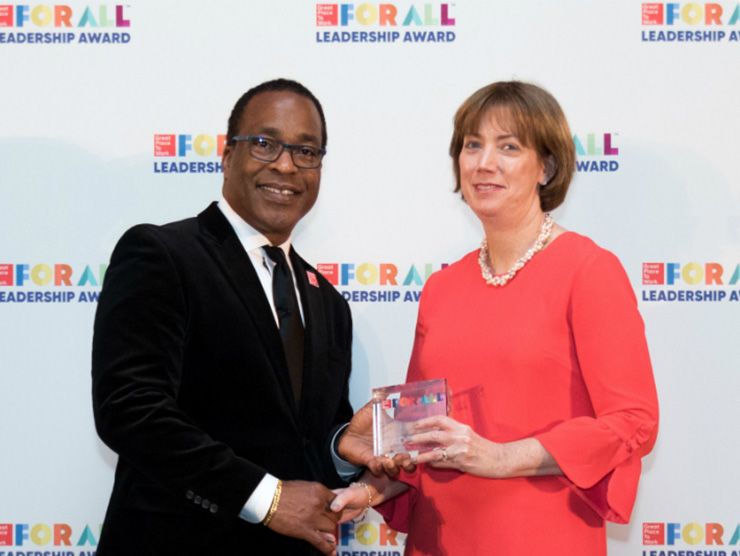 March 16, 2018
– Bright Horizons Family Solutions Chief Operating Officer Mary Lou Burke Afonso has received a 2018 Great Place to Work® For All™ Leadership Award. Named for being a woman leader who has consistently played a critical role in helping Bright Horizons deliver on strategic growth and business goals by creating a high-trust culture that is a great place to work for every employee, Afonso is one of 77 award recipients recognized by Great Place to Work for their contributions to their company's business that fully lives its values in the service to customers, employees, and stakeholders.
As Chief Operating Officer at Bright Horizons, Mary Lou oversees more than 20,000 employees who provide early care and education at the more than 750 U.S. child care centers and schools. Mary Lou's career at Bright Horizons began in 1995 and, over the past 23 years, she has come to exemplify what it means to be a "For All" leader.
"Mary Lou is a strong supporter and an advocate for all the people she leads at all levels, and especially teachers," said Bright Horizons CEO Stephen Kramer. "When she visits a Bright Horizons child care center, her main goal is to spend time with the staff and talk to them about their personal experiences and how she can help them to continue to provide the best possible care and early education to the children and families we serve."
Mary Lou's dedication to her team and in particular to teachers is also personal – both her daughters attended Bright Horizons centers and she talks often about the tremendous connection, respect and appreciation her family felt for her daughter's teachers and the work they did each day. She knows that the success of Bright Horizons hinges on its ability to attract and retain great teachers, like her daughters' teachers, and that informs every decision she makes.
In announcing the honorees, Great Place to Work CEO Michael C. Bush said, "We are excited to celebrate the achievements of some of the top women leaders at America's greatest companies. The companies on FORTUNE's list of the 100 Best Companies to Work For and Best Workplaces for Women are leading the conversation in workplace equality and are demonstrating to corporate America on how to become more diverse, more innovative, and great places to work for all."
"The inaugural awards ceremony is part of Great Place to Work's challenge to inspire every employer and company to become a great workplace for every one of its employees. This maximizes revenue, profit and growth. We are committed to accelerating the maximization of all human potential that is currently underrepresented and disengaged across workplaces, with our first milestone of closing the work experience gap between women and men by 2020," Bush said.
The complete list of honorees is
available here
.