Early Childhood Teachers Receive Prestigious Industry Award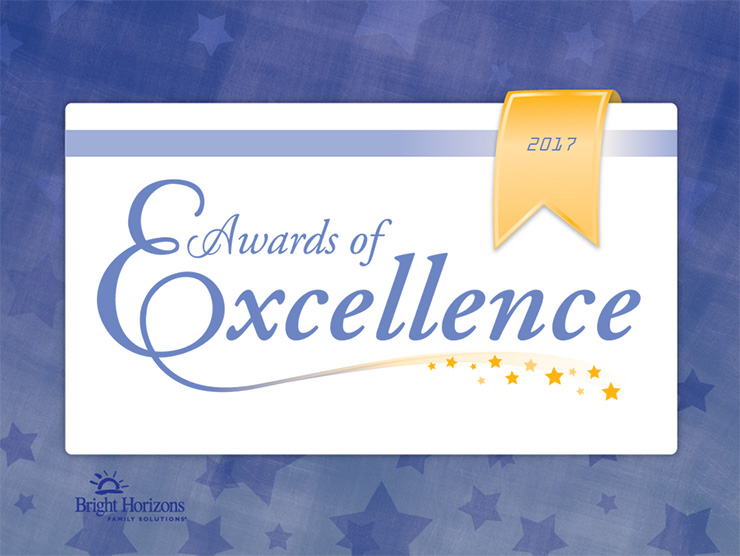 October 24, 2017 – Fifteen teachers at Bright Horizons Family Solutions®, were named winners of the Janice Hill Memorial Award. Each year, the Janice Hill Memorial Award recognizes teachers from among the more than 30,000 who work at Bright Horizons® child care and early education centers across the nation.

Janice Hill Award Recipients have made an enormous impact in the lives of both the children and the families they serve. Each of the 15 winners demonstrates a commitment to children that is exceptional, making them leaders in the early education field.

Bright Horizons Family Solutions® honored the recipients with the prestigious award at regional ceremonies held across the country. The winners listed below were recognized by their peers, child care center directors, and parents of the children in their care for their commitment to excellence in early education.
The award is named in memory of Janice Hill, a teacher at the Bright Horizons Campbell Child Care Center for 10 years, where she dedicated her life to children and families before she died of cancer in 1998. The award winners demonstrate excellence in early childhood education, build supportive relationships with families, and have a strong commitment to the field of early education. These are the same qualities that made Janice Hill such an exceptional teacher.
Winners:
Meghan Burd, teacher at Titusville Child Development Center in Titusville, NJ
Rosemary Rinaldi, lead teacher at The Children's Learning Laboratory in Ashburn, VA
Isabel Riley, lead teacher at Bright Horizons at Hunter's Green in Tampa, FL
Diane Rust, lead teacher at Chapman Child Learning Center in Tulsa, OK
Esther Alabi, lead teacher at Little Elms Child Care Center in Elmhurst, NY
Jena Parry, lead teacher at CDW At Play Child Care Center in Vernon Hills, IL
Lorie Dorrian, lead teacher at The Battelle Discovery Center in Columbus, OH
Nurjis Syed, teacher at Bright Horizons at Wayland in Wayland, MA
Linda Taylor, teacher at Medtronic Child Care Center in Mounds View, MN
Clover Pape, teacher at ARMC Family Enrichment Center in Burlington, NC
Lupe Alicea, teacher at JPMorgan Chase - San Antonio in San Antonio, TX
Benetta Gipson, teacher at UCSF Marilyn Reed Lucia Child Development Center in San Francisco, CA
Gloria Vaughn, teacher at Bright Horizons at Tierrasanta in San Diego, CA
Gina Dillon, teacher at Upper Gwynedd Child Learning Center in North Wales, PA
Denise Heyward, lead teacher at LittleOne in Savannah, GA
For more than 30 years, Bright Horizons® early education centers and preschools have been helping children around the world develop confidence and a passion for learning. Bright Horizons is committed to the field of early education and to practices that guide each child's social, physical, emotional, and cognitive development. Bright Horizons' emergent curriculum approach is designed for this purpose, enabling teachers to tailor activities and projects for the specific interests and skills of each child in the class, with the goal of preparing students for success in school and in life. For more information on our curriculum, visit https://www.brighthorizons.com/programs/care-school-curriculum.