Dow Jones Family Center Celebrates 20-Year Anniversary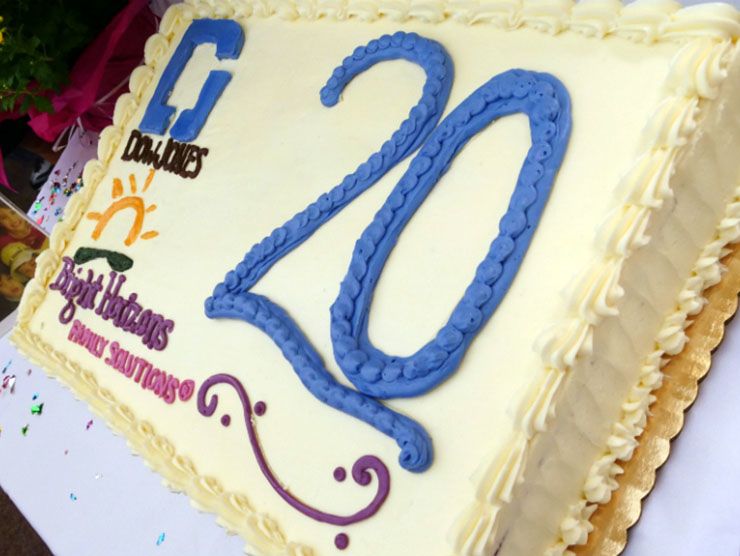 September 24, 2018 – For 20 years, Dow Jones – a worldwide news and information organization that includes brands such as The Wall Street Journal, Dow Jones Newswires, Factiva, Barron's, MarketWatch and Financial News – has been offering employees at its Princeton, New Jersey location on-site child care. The Dow Jones Family Center opened to Dow Jones employees and their families on September 1, 1998. With space for 114 children ranging in age from 6 weeks through kindergarten as well as 24 school-age children during school breaks and holidays, the center's longevity is a testament to how crucial this benefit is to working parents.
At the anniversary celebration, Bright Horizons staff and Dow Jones senior executives were joined by current families and more than 20 parents of children who had since graduated from the center, but still wanted to partake in the festivities.
The center had shirts made with some statistics about their impact:
Served over 1,000 families

Educated more than 1,500 children

Provided more than 800 days of back-up care
Hosted more than 35 celebrity readers
Collaborated on over 30 community service projects
Helped to create two Bright Spaces for children in need
Director Kim Robbins has been with the center for 17 of its 20 years. Including the assistant director and the two education coordinators, the administration team has a combined 60+ years with Bright Horizons.
"We have always felt like a valued member of the Dow Jones family," Robbins said.
The celebration was also a commitment to the continued relationship between the two companies.
"I am very humbled by the dedication Dow Jones has to enriching the lives of our employees, and this child care center stands as a true testament to that commitment," said Mark Musgrave, Dow Jones Chief People Officer. "With the help of the Bright Horizons team, we're able to give these children a head start and poise them for great success as they transition into primary education. This is an investment not many employers could ever do. I am so proud of this opportunity employees have to integrate work and family and participate in all those special moments while furthering their careers."