Children of Dow Jones Employees Beautify New Jersey Bright Space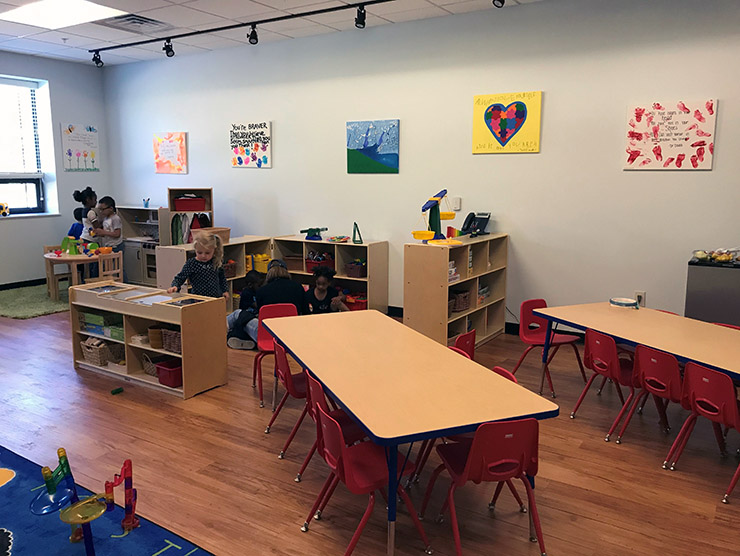 June 19, 2019 – Children from the Dow Jones Family Center learned the power of giving back when a class project became an opportunity to donate their uplifting artwork to the newest Bright Space® in Trenton, New Jersey. The Bright Space, a warm, safe and enriching place for children, was created by the volunteers at Dow Jones for HomeFront, an agency working to end family homelessness in Central New Jersey.
At the Dow Jones Family Center – the on-site child care center for Dow Jones employees that Bright Horizons has managed for 20 years – the children were taught about Bright Spaces, and together with their teachers started an art project to help beautify the new space at Homefront. Using books that were meaningful to them, the children chose their favorite quotes to create canvases to decorate the renovated space and inspire the children who will use it.
"Partnering with the Dow Jones Foundation and the volunteers of Dow Jones to open the Bright Space at Homefront was meaningful for not only our staff, but more importantly, the children," said Dow Jones Family Center Director Kim Robbins. "The children at our center were committed to brightening the space that would be created at Homefront by thoughtfully and creatively making works of art that could brighten any room. Art is an important piece of our curriculum at Bright Horizons, as is encouraging children to have social responsibility and empathy, and so this partnership with Dow Jones provided the perfect opportunity for the children to put the skills they are learning to great use."
With help from the Dow Jones volunteers, the Bright Space was opened to provide preschoolers and toddlers with a new space to enjoy their childhood. This also marks the third Bright Space that the Bright Horizons Foundation for Children has created for Homefront, with the first two being funded by Bright Horizons client Bristol-Myers Squibb.