The Week of the Young Child Celebrated at Cone Health Centers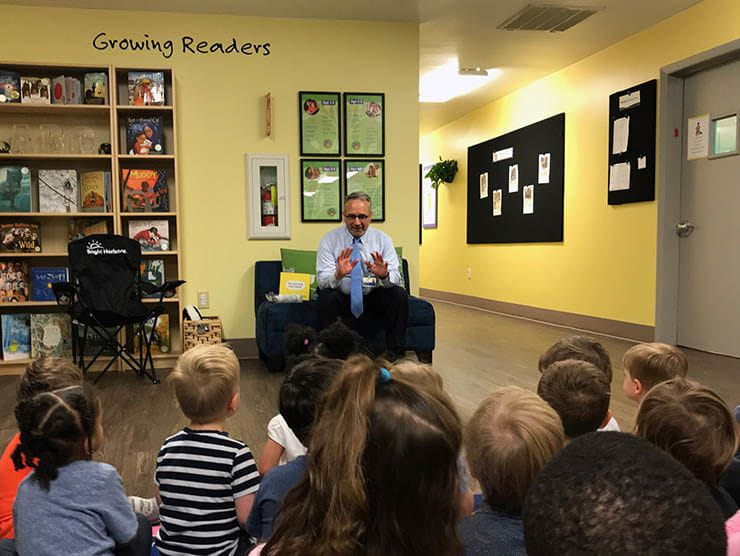 April 23, 2019 – Young minds in North Carolina were inspired during The Week of the Young Child™ when Cone Health executives visited their three on-site child care facilities operated by Bright Horizons. Leaders at Cone Health read to Kindergarten Prep students and joined classrooms for a science activity at Children's Corner, Kids Connection, and ARMC Family Center.
Throughout The Week of the Young Child, centers across the country joined in the annual celebration, hosted by the National Association for the Education of Young Children (NAEYC), to highlight the importance of early learning, young children, their teachers, families, and communities. Promoting literacy, members of the Cone Health Leadership Team read "Do Not Lick This Book" by Idan Ben-Barak and Julian Frost, to the Kindergarten Prep Students.
In Greensboro, North Carolina, President of Moses Cone Hospital & SVP of Cone Health, Mickey Foster, visited Children's Corner and President SVP of Wesley Long Hospital and Chief Inclusion Officer of Cone Health, Paul Jeffery, visited Kids Connection to celebrate The Week of the Young Child's "Work Together Wednesday." The students learned about collaboration through the simulated germ activity that the presidents kicked off in the classrooms. Working together, the Kindergarten Prep students examined what germs on their hands look like under black light.
On Friday, in Burlington, North Carolina, CNO & VP, Patient Care Services of Alamance Regional Medical Center, LaVern Delaney, visited ARMC Family, encouraging the students to enhance their interest for scientific learning. In each of the centers STEM labs, the students used their scientific thinking to collaborate and see where germs can live and why it is important to prevent germs from spreading. In addition to memorable visits in each classroom, the executives also demonstrated Cone Health's commitment to inspire the next generation of medical minds.