Bright Horizons CEO Visits McAllen, Texas to Support Children and Families at Southern Border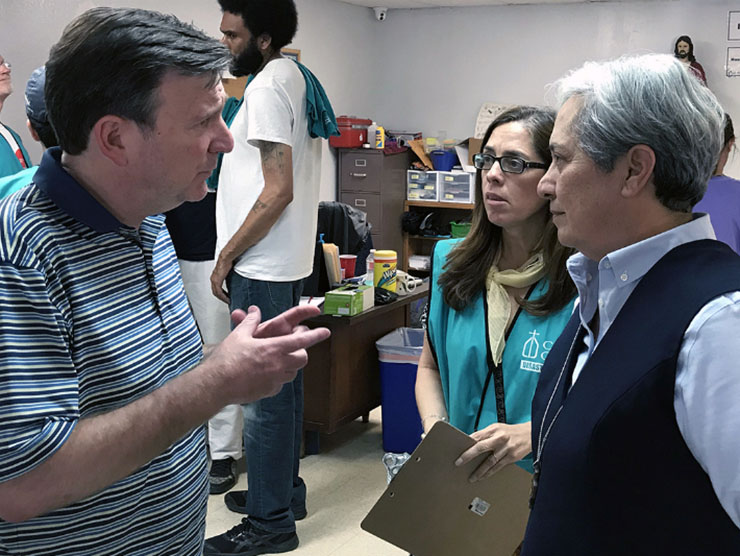 June 27, 2018 – On Monday, June 25, Bright Horizons CEO Stephen Kramer spent the day in McAllen, Texas on behalf of the organization to learn firsthand about the plight of children and families coming across our nation's southern border and how Bright Horizons can best support them.

"I am filled with a mixture of both despair and sense of purpose," Kramer said in a message to employees. "Despair for the families, the mothers and fathers, and of course the children who have come such a long way only to have an even longer journey ahead. And at the same time, I am filled with purpose, because we at Bright Horizons are so uniquely suited to take action and make an impact right away."

While there, Kramer had the opportunity to meet McAllen Mayor Jim Darling, who shared the community's heartache about what is going on. McAllen is a border town and has long been a first stop for migrant families and those seeking asylum.

"McAllen is a community of people helping people, now overwhelmed by the current need and grateful for the offers of support," Kramer said.

He also met with Sister Norma Pimentel and her team of staff and volunteers at the Humanitarian Respite Center, a facility operated by Catholic Charities of the Rio Grande Valley. The Respite Center serves as a "ground zero" for migrant families who have come through McAllen's processing center. They provide food, showers, and security for people who have been through a long and difficult journey and have a tough road ahead. The Respite Center is supported by and coordinated with virtually all relief efforts and community organizations in the region.

Bright Horizons provided supplies the Respite Center needed in the moment, such as Pedialyte, formula, bottles, diapers, and wipes, as well as the promise to quickly build a Bright Space at the Respite Center.

Through the Bright Horizons Foundation for Children, Bright Horizons has also committed to collecting funds to provide each of the thousands of children that pass through the Respite Center with a small toy to take with them as their journey continues.

As the day came to a close, Kramer spoke with Sera Bonds, Founder and CEO of Circle of Health International. In McAllen, her team is treating upward of 100 patients a day, from pregnant women in desperate need of prenatal care to treating the trauma and stress caused by the journey, the immigration process and family separation. Kramer committed to sharing word of their mission and supporting their efforts to provide the medical personnel, mental health experts, equipment and supplies they need to treat babies, children and families.

"It was a long day but I left feeling energized and optimistic about our ability to make a difference," Kramer said. "We will continue to explore ways we can support separated families that have been relocated to other cities across the country. There is no question that the need is great, and I'm so proud to be a part of the Bright Horizons family who can and will answer the call."

To support Bright Horizons and the Foundation's efforts, go to www.brightspaces.org/respitecenterbrightspace.