From Diapers to Diaper Drives: Bright Horizons Alumna Comes Full Circle at Camp Amgen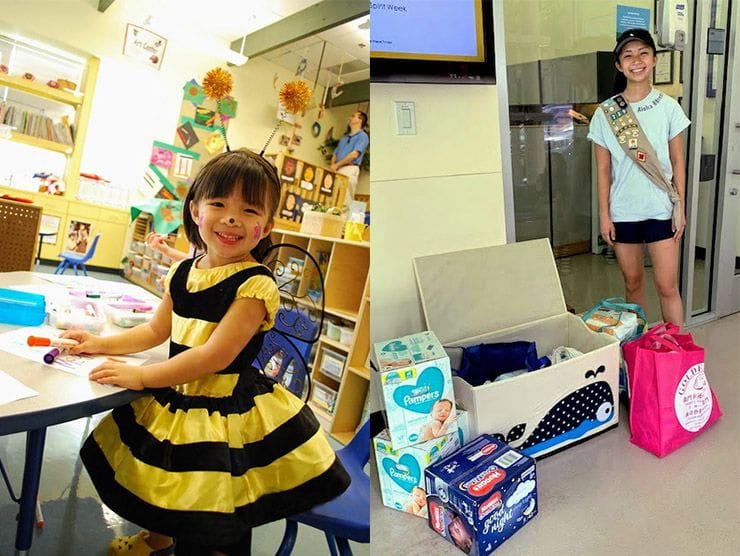 September 17, 2019
– When Julie Wang was raising her daughters Lauryn, Megan and Hailey, she was also working full time as a Global Publications, Medical Writing Senior Manager at biopharmaceutical company
Amgen
. She enrolled the girls at
Camp Amgen
– the on-site child care center for employees at the company's Thousand Oaks, California facility.
"It really helped us to balance demanding work schedules with being parents of young children, and the on-site location at the Amgen Thousand Oaks campus meant I could continue to feed my children in their infant classrooms in the middle of the day," Julie says. "The Camp Amgen schedule and calendar are broad enough to accommodate the needs of my schedule, so it alleviated a lot of the juggling that using an outside child care provider would have required."
Opened in 1998, Camp Amgen has capacity for more than 450 children from 6 weeks to 5 years of age. Considered a Bright Horizons "mega center," more than 300 Amgen employees drop off their children before work each day.
"The building where my office was located was a short walk from Camp Amgen, and I loved being able to visit my daughters when they were infants," Julie recalls. "As they got older, I was sometimes able to pick them up for lunch or see them on walks around the campus. They have fond memories of having pizza at the Amgen cafeteria!"
Camp Amgen Program Director Leyla Pinsent was Megan's teacher in the early preschool-age classroom, and remembers the Wangs well. So when Megan reached out earlier this year to ask if the center could help her with a Girl Scout project, there was no hesitation.
As a 14-year-old Senior Girl Scout, Megan is working on her
Girl Scouts Gold Award
– the most prestigious award that Girl Scouts can earn, that focuses on a particular community issue and a project that requires a significant amount of planning. For her project, Megan chose to focus on maternal mental health and its link to financial stress.
"One of the factors that can heavily impact maternal mental health is financial need and difficulty in providing necessities, such as diapers, for your children," Megan says.
Part of her project entailed setting up a collection bin in the Camp Amgen lobby.
"We always have leftover diapers at the center as children outgrow them, switch classrooms, and graduate from the center or from diapers in general," Pinsent explains. "So we knew we could help Megan with some initial contributions to the bin, but we had no idea how many she'd be able to collect."
The response has been overwhelming. Megan has collected more than 4,000 diapers and wipes – enough to help nearly 200 families. Parents asked that their children's leftover diapers be donated. And, then they started bringing in extras from home. Some parents even purchased diapers specifically to be donated. Packages of baby wipes started appearing in the collection bin as well.
Bright Horizons also operates a child care center at Amgen's facility in Juncos, Puerto Rico.
ChiquiAMGEN
has space for more than 130 children.