Bright Horizons Women Executives at Working Mother Media's WorkBeyond Summit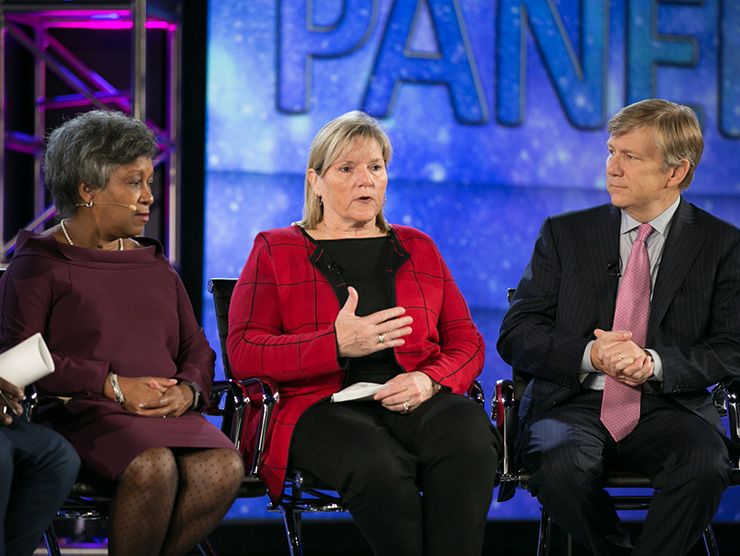 November 3, 2017 –On October 23 and 24, three women executives from Bright Horizons Family Solutions joined leaders from companies across the country to focus on work/life balance, shaping workplace culture, and current trends and policies related to retaining top talent. Formerly known as the Work Life Congress, Working Mother Media's WorkBeyond Summit was held in New York City.
Maribeth Bearfield, Bright Horizons Chief Human Resources Officer, sat on the Futures Panel to discuss best practices for investing in and retaining top talent along with Jeffery Smith from Jennifer Brown Consulting, Renetta McCann from Leo Burnett, and Scott Olsen from PwC. The panelists shared how their companies are driving culture change to make workplaces more desirable.
"Four things I am committed to as a leader at Bright Horizons are communication, flexibility, connectivity, and affirmation," Bearfield said. "Our culture is one that provides a safe space for the exchange of ideas, no matter how substantial or unusual."
Bright Horizons Senior Vice President and Chief Administrative Officer Mandy Berman participated in a panel on The Modern Family in the Age of Millennials. Joined by Boston College's Jennifer Sabatini Fraone, EY's Liz Fabi-Piller, and PNC's Elizabeth Harrington, Berman discussed the increase of millennials in the workforce shaping how employers must respond to and adjust employee networks and programming opportunities.
"It's critical that we align benefits with various stages of life," Berman said. "Recent graduates are looking for tuition assistance and loan repayment options; new parents need support with returning to work and flexibility; while older adults are continuing to work beyond the expected retirement age, so they may be looking for adjusted schedules."
The conclusion of the two-day event was an awards dinner to celebrate the 2017 Working Mother 100 Best Companies, of which more than 75 are clients of Bright Horizons – including all of the top 10 employers. Bright Horizons Chief Operating Officer Mary Lou Burke Afonso delivered the keynote address.
"It is clear that the particular challenges faced by women and mothers in the workplace need real scrutiny and real solutions," Burke Afonso said. "And the employers that are front and center in recognizing that and leading the way on the solutions are the ones – like everyone here in the room – who will lead the way in their field."