Early Childhood Teachers
Receive Prestigious Industry Award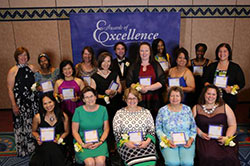 [Watertown, Mass., July 2016] - Fourteen teachers at Bright Horizons Family Solutions®, throughout the United States were named winners of the Janice Hill Memorial Award. Each year, the Janice Hill Memorial Award recognizes teachers from among the more than 27,000 who work at Bright Horizons® child care and early education centers across the U.S., Europe, and Canada.

Janice Hill Award Recipients have made an enormous impact in the lives of both the children and the families that they serve. Each of the 14 winners demonstrates a commitment to children that is exceptional, making them leaders in the early education field.

Bright Horizons Family Solutions®, honored the recipients with the prestigious award at the recent Awards of Excellence. The winners listed below were recognized by their peers, child care center director, and parents of the children in their care for their commitment to excellence in early education.


The award is named in memory of Janice Hill, a teacher at the Bright Horizons Campbell Child Care Center for ten years, where she dedicated her life to children and families before she died of cancer in 1998. The award winners demonstrate excellence in early childhood education, build supportive relationships with families, and have a strong commitment to the field of early education. These are the same qualities that made Janice Hill such an exceptional teacher.
Winners:
Alison Danton, Kindergarten Prep Teacher at Bright Horizons at Parsippany in New Jersey
Noralyn Lumbre, Preschool Lead Teacher at Bright Horizons at 1111 Pennsylvania Avenue in Washington D.C.
Andrew Hendley, Jr., Enrichment Teacher at TSYS Learning Center in Columbus Georgia
Cynthia Gonzalez, Lead Teacher at Child Care Center at Citibank Service Center in San Antonio, Texas
Christine Silva, Infant Lead Teacher at Child Care Center at Bright Horizons at Rhode Island Hospital in Providence
Maria Popkiewicz, Infant Teacher at Bright Horizons at Cook County/ City of Child Development in Chicago, Illinois
Emelie Hinson, Infant Teacher at Saint Thomas Family Center in Nashville Tennessee
Cristal Hamilton, Teacher at Bright Horizons at Portland in Maine
Amanda Safranek, Teacher at Bright Horizons at Centennial Mall in Lincoln, Nebraska
Linda Ploeg, Infant Teacher at Bright Horizons at Concord Plaza in Wilmington, Delaware
Kenya Burts, Teacher at Bright Horizons at Houston in Texas
Domitilla Riziki, Infant Teacher at Bright Horizons at Highlands in Issaquah, Washington
Julie Walker, Infant Teacher at Bright Horizons at Cupertino in California
Christine Colvin, Teacher at Park City Child Care Center, in Pennsylvania