Stephen Kramer Participates in Panel on Supporting Working Parents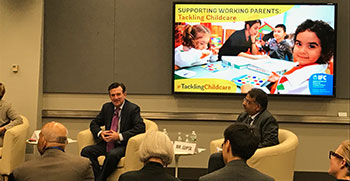 Many of the world's largest employers have taken innovative approaches to better meet the needs of the workforce, and this includes recognition of their employees' child care needs. The United States was among 10 countries studied for a recent report on employer-supported child care from the International Finance Corporation (IFC), a member of the World Bank Group and the largest global development institution focused on the private sector in emerging markets.
Bright Horizons President Stephen H. Kramer was invited to participate in a panel discussion on the report's findings, held October 12, 2017 in Washington, DC as part of the Annual Meetings of the Boards of Governors of the World Bank Group and the International Monetary Fund. The Supporting Working Parents: Tackling Childcare event, co-hosted by the IFC Gender Secretariat/Gender Group and the WBG's Women, Business and the Law program, highlighted how companies can reap business benefits and boost working parents' participation in the workforce by investing in child care solutions for their employees, from on-site centers to partnerships with governments and local child care providers.
Bright Horizons Family Solutions' research was cited in the report and was then invited to participate in the event, due in part to the fact that it operates child care centers in six countries – the U.S., Canada, UK, Ireland, India, the Netherlands – and has also consulted with employers in Mexico, Panama, Singapore and the United Arab Emirates. "For the last 30 years, our clients have invested over a billion dollars in their employees' child care options," Kramer said. "We believe every child should have the opportunity to experience a high quality early education. Employers have the opportunity to ensure, along with parents, to make sure children get that experience."
When companies don't include child care solutions as part of their benefits packages, they may not be recruiting the best possible talent. After becoming parents, employees who can't find suitable child care may be forced to delay returning to work or look for a new job with a company that provides such benefits.
But accessibility and availability aren't the only factors for employers to consider. Kramer stressed the importance of quality, especially as it relates to the standards expected or enforced in each country.
"Parents have the same expectation for their children regardless of where they live and work – a high quality setting," he said. "But because the early years are so critical to brain development, availability is only one piece and regulations are a key part. If you have availability of child care but it is not of the quality standard that either parents need or child deserves, then we've only take a partial step but not a complete step to finding a solution for employees."
To read the report, click here: Tackling Childcare: The Business Case for Employer-Supported Childcare.