Bright Horizons Joins Massachusetts Working Group to Address the Student Loan Crisis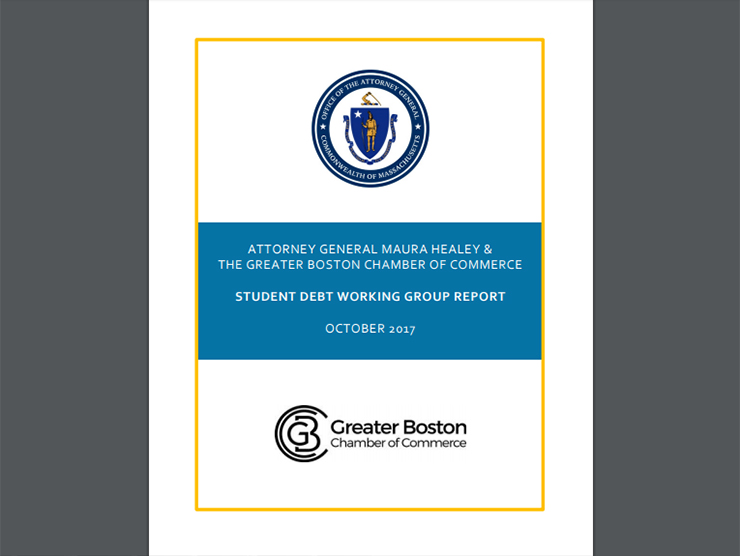 November 20, 2017
– This month, the Massachusetts Student Debt Working Group, an initiative launched by Attorney General Maura Healey and the Greater Boston Chamber of Commerce CEO Jim Rooney, along with representatives from a number of public and private institutions – including Bright Horizons –
issued a report
with recommendations on how to address the student debt crisis impacting the state.
Over the past year, the Working Group – which brought together leaders from the business community, non-profits, and government to exchange ideas for improving the state of student debt in Massachusetts – has come together to discuss strategies to reduce unaffordable debt, increase transparency in student lending, and learn about programs at colleges and universities to create more affordable paths to graduation and into the workforce and help employees manage and repay their loans.
Chris Duchesne, Group Vice President at EdAssist, participated in the group as co-chair of the Debt Repayment subcommittee, which focused on how employers can help borrowers with their debt burdens. The committee discussed the option of employer-sponsored student loan repayment programs as an employee benefit, and is working to develop a toolkit for employers on how to establish this type of benefit program. In addition, the Greater Boston Chamber of Commerce has pledged to advocate for the passage of federal and state legislation to incentivize employers to provide tax free student loan assistance to employees.
The Working Group included four additional subcommittees focused on financial education and transparency, college affordability, degree completion, and bankruptcy relief.
"Student debt affects where people can live and work, the types of jobs they are able to take, and their ability to save for retirement," said Duchesne. "Serving as co-chair of the Debt Repayment subcommittee provided an incredible opportunity to connect with area business leaders on the mutual value of helping pay down employees' student loans – where employers not only alleviate a major source of stress for employees and pave the way for a smoother financial future, but also become armed with a powerful recruitment and retention tool. We are grateful for the work of the Attorney General and Boston Chamber in promoting the adoption of this benefit, both through the creation of a 'how-to' toolkit for employers as well as by advocating for legislation around making student loan assistance tax-free."
"Our region's economic success is driven by our talented workforce, and, in Greater Boston, much of that talent includes our booming young professional population. If we want to continue to be able to attract and retain this important demographic, as well as the businesses that rely on it to succeed, we must find solutions that allow our talent pool to better plan for their financial future, including solutions to rising student loan debt burdens," said James E. Rooney, the Chamber's President & CEO.
With a long history in working with employers to offer tuition assistance benefit programs for employees seeking undergraduate or graduate degrees or certifications, EdAssist expanded its education benefit offerings in 2015 to include EdAssist LoanRepay, a student loan repayment benefit. The company works with employers across a broad range of industries, including Aetna, Vanguard, NVIDIA, Memorial Hermann Hospital, and more, to establish effective loan assistance programs that are both aligned with the organization's talent goals and provide meaningful support for employees.
To read the full Student Debt Working Group Report, click
here
.