Bright Horizons Families in Action
Supporting Hurricane Relief Efforts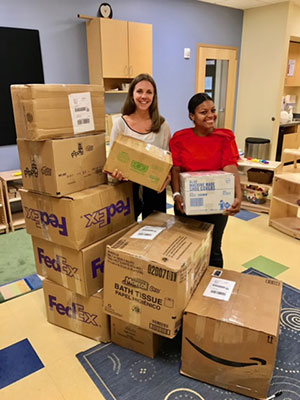 In the wake of Hurricane Harvey and Hurricane Irma, Bright Horizons and the Bright Horizons Foundation raised funds to support children and families in the affected areas.

Storms like these remind us of the vast power of nature and also of the human spirit, with so many members of the Bright Horizons family stepping forward to support the fund. One center in particular went above and beyond showing how a community can come together. At the Bright Horizons at Chelsea Center, in New York City, families helped to raise over $7,000 for the Bright Horizons Hurricane Harvey Relief Fundraiser. The families also collected boxes of diapers, clothing, formula, and bottles and sent them to the Gallery Furniture Store in Houston. The aid supplies were sent to the business, Mattress Mack, where the proprietor has been selflessly providing outreach and support to the community in the wake of Harvey.

Following the fundraiser, Chaise Weirdeman-Grant, a parent from the Center, was grateful for the opportunity to be a part of the effort, "It truly reinforces for us, as Bright Horizons parents, the trust that we have in you all to help us, 5 days a week, to raise a kind, mindful, child."

With the need being so great, Bright Horizons continues to accept donations for the children and families impacted by Hurricane Harvey and Hurricane Irma. Working through the Bright Horizons Foundation for Children, the money collected will be distributed to local relief organizations focused on helping children and families, as well as Bright Space partners in the affected area.
Donations can be made through the websites and address below:
Hurricane Harvey Children's Fund Hurricane Irma Children's Fund
Checks can be sent to: Bright Horizons Foundation for Children

Attn: Hurricane Harvey Children's Fund OR Attn: Hurricane Irma Children's Fund

233 Needham Street, Suite 440

Newton, MA 02464
####
For more than 30 years, Bright Horizons® early education centers and preschools have been helping children around the world develop confidence and a passion for learning. Bright Horizons is committed to the field of early education and to practices that guide each child's social, physical, emotional, and cognitive development. Bright Horizons' emergent curriculum approach is designed for this purpose, enabling teachers to tailor activities and projects for the specific interests and skills of each child in the class, with the goal of preparing students for success in school and in life. For more information on our curriculum, click
here
.