Bright Horizons Helps Launch Employer Guide on Student Loan Repayment Assistance with Massachusetts Working Group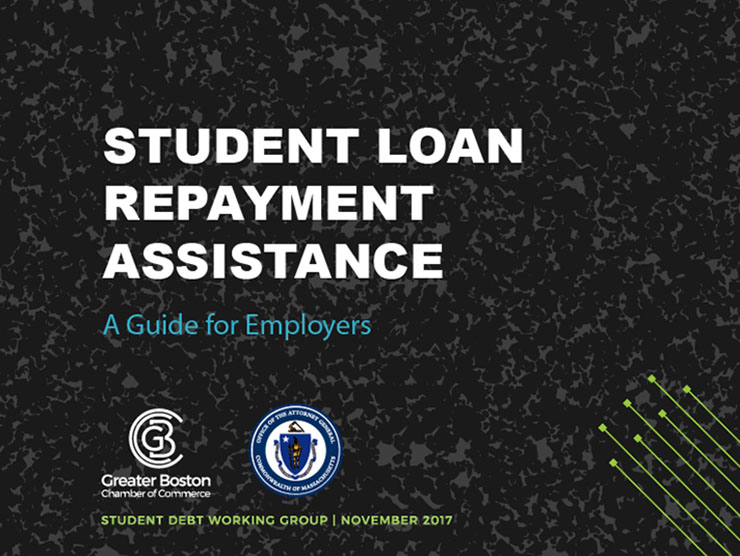 November 29, 2017 – Today, the Massachusetts Student Debt Working Group, an initiative created by the Massachusetts Attorney General and the Greater Boston Chamber of Commerce, along with Bright Horizons and other representatives from area public and private institutions – released the "Student Debt Loan Repayment Employer Guide."
With nearly 45 million Americans carrying student loan debt totaling more than $1.4 trillion in loans, the Employer Guide gives insight into a way employers can help – through student loan repayment benefits. In the Guide employers can find an overview of student loan repayment assistance as an employee benefit, guidance on developing a student loan assistance program, and examples of local employers who have already successfully put such programs into place.
The Guide is a product of the Working Group's Debt Repayment subcommittee, for which EdAssist Group Vice President Chris Duchesne served as a co-chair. In addition to EdAssist, the Employer Guide was developed with the help and recommendations of Fidelity and American Student Assistance.
"Student debt affects where people can live and work, the types of jobs they are able to take, and their ability to save for retirement," says Chris Duchesne, Group Vice President at EdAssist, a division of Bright Horizons. "Serving as co-chair of the Debt Repayment subcommittee provided an incredible opportunity to connect with area business leaders on the mutual value of helping pay down employees' student loans – where employers not only alleviate a major source of stress for employees and pave the way for a smoother financial future, but also become armed with a powerful recruitment and retention tool. Since there is no one-size-fits all approach to developing a student loan repayment program, this employer guide is an invaluable tool for helping companies offer a program that is customized to both the organizations' talent goals and skill gaps in their workforce."
With a long history in working with employers to offer tuition assistance benefit programs for employees seeking undergraduate or graduate degrees or certifications, EdAssist expanded its education benefit offerings in 2015 to include EdAssist LoanRepay, a student loan repayment benefit. The company works with employers across a broad range of industries, including Aetna, Vanguard, NVIDIA, Memorial Hermann Hospital, and more, to establish effective loan assistance programs that are both aligned with the organization's talent goals and provide meaningful support for employees.
Earlier this month the Student Debt Working Group issued a report with recommendations on how to address the student debt crisis impacting the state.
Read the full press release and Employer Guide here.