More than 75 Bright Horizons Employer Clients Named to Working Mother's 2017 "100 Best Companies" List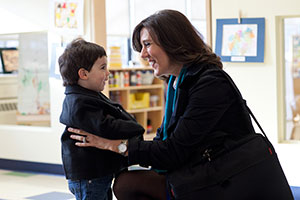 Working Mother Magazine released its 2017 "100 Best Companies" and more than 75 of the companies, including all of the top ten employers, are clients of Bright Horizons Family Solutions.
The "100 Best" collects data and raises awareness of new programs designed to help working moms and all employees thrive at work and home. The analysis includes responses to more than 500 questions on leave policies, workforce representation, benefits, child care, advancement programs, flexibility policies and more.
Access to support like on-site child care, back-up child care, and workplace flexibility is a common denominator among the companies on the list. Of the 100 Best Companies this year:
Forty-one percent have at least one company-sponsored, on-site child care center;
and 92 percent offer back-up child care.
Combined with the "100 Best" list, Working Mother named 77 women to its 2017 "Working Mother of the Year" list. Forty-seven of the women on the list work for employers who are clients of Bright Horizons. Having a child care program was mentioned as a key factor in helping many of these "Working Mothers of the Year" and their colleagues.
After having her own third child, Cherie Flueck, who works at Lexmark in Lexington, Kentucky, returned to her role as Director of Worldwide Finance Planning. She helped start a work-life balance diversity network group that included not only working moms, but women and men in all stages of life. Among their tangible contributions to improving life at Lexmark was the group's support for a state-of-the-art child care center at Lexmark headquarters – the Lexmark Center for Children, which is managed by Bright Horizons.
Another 2017 "Working Mother of the Year" is Jennifer Mall, a senior quality assurance professional at Abbott in the Chicago area. Abbott has been a Bright Horizons client since 2001. Jennifer credits Abbott with not only providing support at both work and home but also with saving her life. In 2009, a visit to a free mammogram screening van provided by Abbott detected early stage breast cancer. Without Abbott's program, she would not have had a mammogram until the following year. This year, Jennifer celebrated her 17th anniversary at Abbott and her 7th year cancer free. All three of Jennifer daughters – now 14, 12, and 10 – attended Early Discoveries: Abbott's Center for Child Development.
"It is incredibly gratifying to see so many of our clients recognized for both the big and little ways that they support their employees who are working parents and to see the direct and tangible impact that their support makes on individuals," said Bright Horizons CEO Dave Lissy. "At Bright Horizons, we have long said that to help people truly succeed, you have to see your employees as whole people, with lives outside of work that require support and understanding. When employers recognize this, they often find and keep their most valuable employees."
"As our 32nd year of recognizing the best companies begins, we are happy to see that the next generation, coupled with technology, have shown us how employees can be efficient, productive, effective and impactful no matter where they work," said Subha Barry, senior vice president and managing director of Working Mother Media. "'The 2017 Working Mother 100 Best Companies' policies and programs have built loyalty among their employees that cannot be underestimated."
The complete list of Working Mother's 2017 100 Best Companies can be found here. The 2017 Working Mothers of the Year are listed here.