Bright Horizons Named to Boston Globe's Top Places to Work List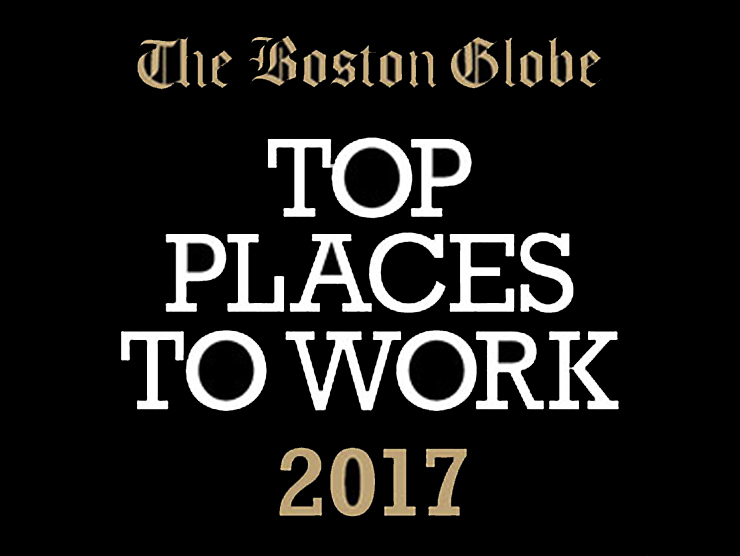 November 17, 2017 – Bright Horizons Family Solutions has been named one of the "Top Places to Work" by The Boston Globe for the 10th consecutive year. This recognition underscores the strong culture that Bright Horizons employees have built and have been committed to since the company's founding 31 years ago.
Top Places to Work recognizes the most admired workplaces in the state as voted on by employees. The survey measures employee opinions about their company's direction, execution, connection, management, work, pay and benefits, and engagement.
"Being on the Globe's list every year for the past 10 years is a testament to the strong culture our employees have created together," said Bright Horizons CEO David Lissy. "Every single day, I am proud to see our employees living out our mission of making a difference in the communities where we live and work. It is their collective commitment to each other and to our principles of Honesty, Excellence, Accountability, Respect and Teamwork that make Bright Horizons a great place to come to work and to make a lasting impact on children and their families."
In addition to making the list, Bright Horizons was also recognized for being one of 10 companies to make the list all 10 years that it has been published. Senior Business Analyst Jamie Kirkland was featured as an employee of the "Top Places to Work" who is passionate about his career, and spoke to the focus on diversity and inclusion in the workplace.
"Here, I can bring my whole self to work and have my individuality celebrated," Kirkland said. "This company is all about work-life solutions and supporting families who represent countless cultures."
Bright Horizons is honored to share the list with many family-friendly organizations and congratulates its clients that have also been recognized as "Top Place to Work." Over the last 31 years, Bright Horizons has valued its partnership with companies that share a commitment for supporting employees as they work to achieve professional and personal fulfillment.
The rankings in the Top Places to Work are based on confidential survey information collected by Energage (formerly WorkplaceDynamics), an independent company specializing in employee engagement and retention, from nearly 75,060 individuals at 334 Massachusetts organizations. The winners share a few key traits, including offering progressive benefits, giving their employees a voice, and encouraging them to have some fun while they're at it.
The full list of Top Places to Work will be in a special section in the Boston Sunday Globe on November 19. The full list and methodology can be found at bostonglobe.com/topplaces.