Bright Horizons Adds
New Summer Camp Solution to Back-up Care Program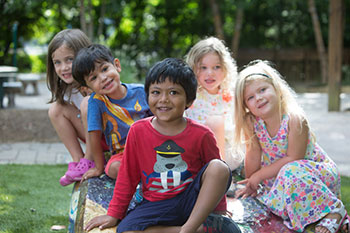 August 2, 2017 – Working parents with access to Bright Horizons back-up child care now have a new solution to finding coverage for their school-aged children during the summer months, thanks to a new partnership with Steve & Kate's summer day camps.
The program is an expansion of the Bright Horizons' Back-Up Care Advantage® (BUCA) program, which enables employees of Bright Horizons' client companies to have access to free (or nearly free) care during times when their regular child care falls through. Summertime, when school is out and access to camps can be challenging and expensive, is especially tough for working families. The addition of Steve & Kate's not only allows employees working at Bright Horizons client companies to go to work and be productive, but also provides their children with an enriching and unforgettable camp experience at a very low cost. And unlike most camp options, parents can sign-up for as little as one day of camp or multiple weeks, if they choose – and they don't need to plan ahead.
Steve and Kate's camp is a summer day-camp with more than 45 locations across the country. The mission of Steve & Kate's is to provide an environment where children can create their own summer experience by participating in the activities they love– from music to sports, robotics and bread-making. The camps operate a flexible day-pass system where families can sign up for one day or a whole summer and attend any time they'd like without advanced notice.
"Since 1980, Steve & Kate's Camp has created programs and systems that build trusting relationships with children and parents alike," says Mike Saperstein, partner at Steve & Kate's Camp. "We trust campers to self-direct their way through a range of activities, which helps them learn to trust themselves, ultimately leading to inspired and happy learners. We know that parents are not clairvoyant and can't predict when grandparents pop into town, work schedules change or children catch a cold, so we remove the anxiety of planning and that builds a trusting relationship between us and the families we serve."
"Summer can be particularly challenging for working parents with children out of school for the summer, and the employers we work with recognize how difficult it can be for parents to stay engaged in work while also keeping their kids busy," says Mandy Berman, chief administrative officer and executive vice president of operations at Bright Horizons. "Steve & Kate's camps are a great addition to our back-up care program because they give working parents a unique option for their children. This camp option is open to any working family who has Bright Horizons back-up care through their employer. "