Making Birthdays Brighter for Children Living in Crisis while Carrying out Company Mission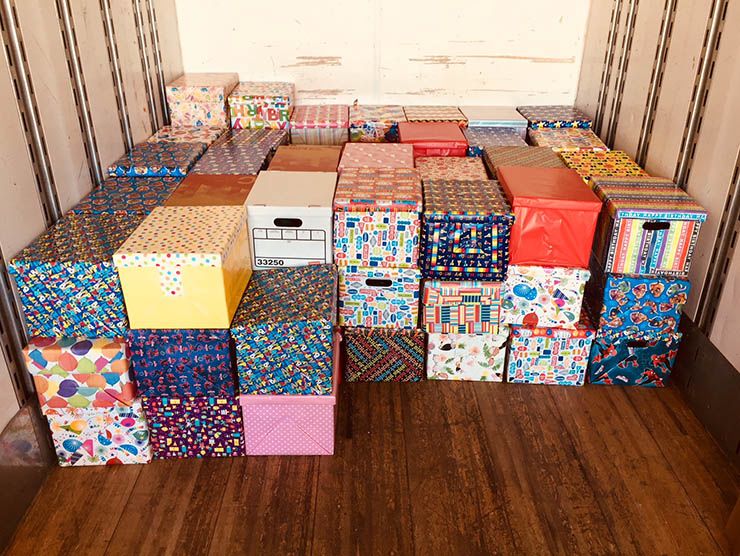 August 10, 2018 – The Bright Horizons Home Office helped make 92 birthdays a little brighter for children in crisis across New England. Through a partnership with Birthday Wishes, employees shopped for and assembled everything that 92 children and their families need to celebrate birthdays while living in homeless shelters or receiving support from social services agencies.
Overseen by Better Together – an employee group that focuses on creating a fun and inclusive environment for everyone – the birthday-in-a-box assembly event was a way to bring together departments from across the five buildings for a team-building activity. Each box had a theme, ranging from princesses and superheroes to safaris and sports.
"Making a difference in the communities where we live and work" has always been part of the Bright Horizons mission. In 1999, the Bright Horizons Foundation for Children was founded to help fulfill this mission. The flagship program is the Bright Spaces program – warm, safe, enriching spaces in homeless shelters and other agencies for children and youth to build caring relationships, heal from trauma through play, and experience the joy of childhood.
When children and their families find themselves in crisis, keeping as normal a routine as possible is critical for the child's wellbeing. That's why Bright Spaces are crucial, and it's also why Massachusetts businesswoman Lisa Vasiloff helped co-found Birthday Wishes – to ensure that every child experiencing the trauma of homelessness has the opportunity to celebrate their birthday joyfully. Her non-profit provides birthday party supplies to many of the shelters and agencies where Bright Spaces are located, making a partnership between the two organizations a natural fit.
Last year, a few groups and departments got together and supplied a handful of boxes to Birthday Wishes. They included all the requisite items:
Cake mix and frosting
Disposable cake pan
Candles
Disposable forks
Paper plates and napkins
Disposable tablecloth
Party hats
Balloons
Blowouts (noise makers)
Crepe paper streamers
"Happy Birthday" banner
So in 2018, Bright Horizons' goal of 70 boxes seemed lofty but do-able. Senior Director of Workplace Engagement Patti Nurse said the response from employees was so overwhelming that she had to call a professional moving company (Gentle Giant – who graciously offered to complete the job at no cost) to transport all 92 boxes from Watertown to Birthday Wishes' fulfillment center in Woburn, 20 miles north. Bright Horizons employees volunteered their time – even after all the boxes were filled – and formed a human chain to move the boxes from the second floor to the back of the moving truck.