Expanded Education Benefits Set Team Members Up for Success at Orlando Health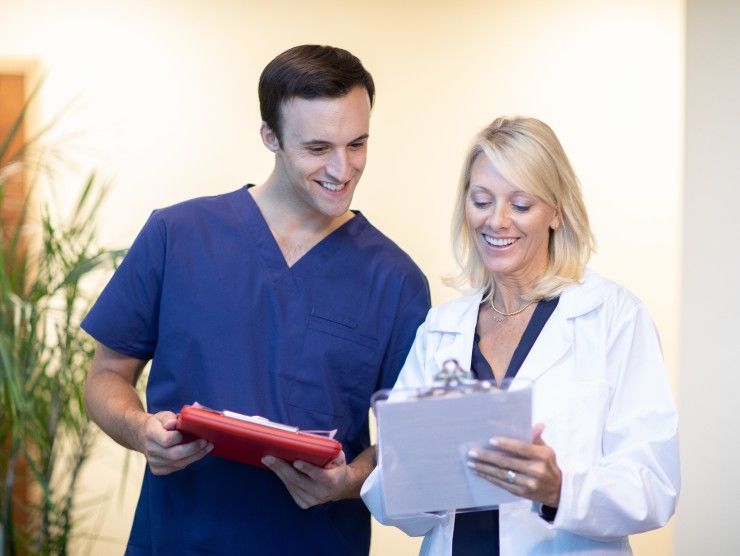 New Benefits Include High School Diploma and English Language Courses
October 6, 2022 – Building on an already robust menu of education benefits, Orlando Health is rolling out opportunities for team members to complete their high school diploma and enhance their English language skills.
Through a new program called Career Online High School, Orlando Health team members who have not completed high school will be able to earn an accredited high school diploma, along with a career certificate, so they can graduate with real-world knowledge. The 18-month program is flexible for students to complete on their own time with an Academic Coach assigned to each participant. Orlando Health will pay for the program so team members will have no out-of-pocket costs.
For team members looking to improve their English language skills, Orlando Health is introducing My Time English. This new program is a self-paced, 12-month online course, with 180 videos that bring language to life, more than 400 speech recognition activities to build listening and speaking skills, and more. My Time English is also offered at no cost to Orlando Health team members.
"We're very excited that our team members will be able to take advantage of these new education benefits that go above and beyond the traditional tuition reimbursement benefits we already offer," says Wendy Reynolds, MHRM, PHR, senior director of benefits at Orlando Health. "These new programs will set our team members up for success as they look for opportunities to grow at Orlando Health."
Career Online High School and My Time English will be administered by EdAssist for Bright Horizons, which has helped Orlando Health establish a host of education benefits, including tuition reimbursement and a Preferred Education Program that allows team members to pursue an associate degree, bachelor's degree, or technical certificate at institutions like Valencia College, Seminole State College and more.
"Today employers like Orlando Health realize they need to meet employees where they are in their educational journey. They have demonstrated a commitment to invest in their work force by offering progressive programs like My Time English and Career Online Highschool to provide the opportunity for employees to gain the skills they need to be successful." said Dr. Jill Buban, vice president and general manager of EdAssist for Bright Horizons.
Full time and part time Orlando Health team members will be able to take advantage of Career Online High School and My Time English beginning on September 26, 2022.
About Orlando Health
Orlando Health, headquartered in Orlando, Florida, is a not-for-profit healthcare organization with $8 billion of assets under management that serves the southeastern United States. Founded more than 100 years ago, the healthcare system is recognized around the world for Central Florida's only pediatric and adult Level One Trauma program as well as the only state-accredited Level Two Adult Trauma Center in the St. Petersburg region. It is the home of the nation's largest neonatal intensive care unit under one roof, the only system in the southeast to offer open fetal surgery to repair the most severe forms of spina bifida, the site of an Olympic athlete training facility and operator of one of the largest and highest performing clinically integrated networks in the region. Orlando Health has pioneered life-changing medical research and its Graduate Medical Education program hosts more than 350 residents and fellows. The 3,200-bed system includes 10 award-winning hospitals, 9 hospital based ERs, and 7 free-standing emergency rooms; rehabilitation services, cancer and heart institutes, imaging and laboratory services, wound care centers, physician offices for adults and pediatrics, skilled nursing facilities, an in-patient behavioral health facility, home healthcare services in partnership with LHC Group, and urgent care centers in partnership with FastMed Urgent Care. More than 4,200 physicians, representing more than 100 medical specialties and subspecialties have privileges across the Orlando Health system, which employs more than 23,000 team members. In FY21, Orlando Health served more than 160,000 inpatients and 3.6 million outpatients. During that same time period, Orlando Health provided approximately $648 million in total value to the communities it serves in the form of charity care, community benefit programs and services, community building activities and more. Additional information can be found at http://www.orlandohealth.com, or follow us on LinkedIn, Facebook, Instagram and Twitter @orlandohealth.