Bright Horizons Partners with Tinkergarten® to Celebrate Children's Health Month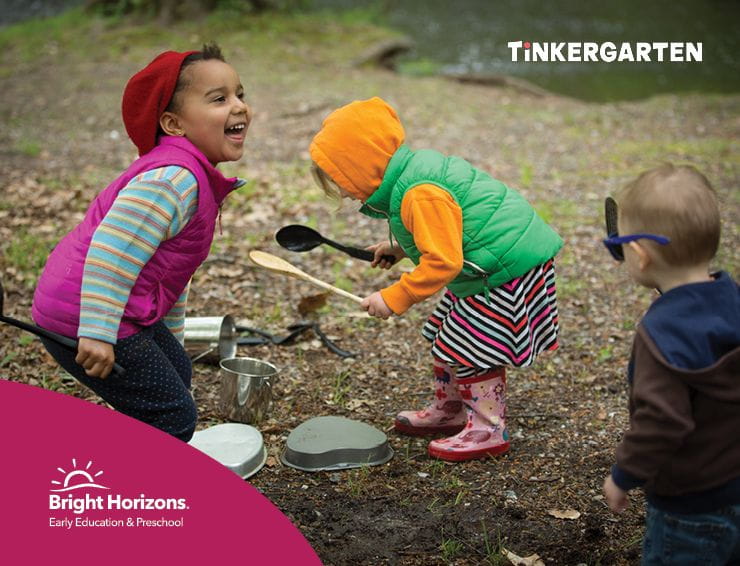 September 29, 2022 – Bright Horizons has partnered with Tinkergarten, the national leader in outdoor, play-based learning to celebrate Children's Health Month. Both Bright Horizons and Tinkergarten are committed to getting children more active with learning experiences that are not only developmentally appropriate, but fun and engaging too. As part of this year's National Child Health Day, on October 3rd, Bright Horizons and Tinkergarten will share free how-to Tinkergarten activities on their social media channels to encourage parents and children to get outside, learn and explore.

"Play-based learning is at the heart of Bright Horizons' approach and philosophy. We believe that immersive experiences foster a joyful childhood, encourage relationship-building, and develop a foundation for future success," said Rachel Robertson, Vice President of Education and Development at Bright Horizons. "We are thrilled to partner with Tinkergarten and introduce their play-based, outdoor learning resources to our families."

National Child Health Day occurs each year on the first Monday of October, as part of Children's Health Month, to recognize the importance of children's health, safety, and wellness. All month long, parents and teachers are encouraged to learn more about how to improve the health of the children in their lives and participate in healthy activities.

"We are thrilled to team up with Bright Horizons to support even more families in reaping the benefits of social, playful time in nature" said Brian Fitzgerald, CEO of Tinkergarten. "Young people today have lived through a challenging and unique moment in time, and we've all got a renewed understanding of how essential time outside, connection to one another, and play are to our childrens' lives."

Bright Horizons partners with a number of organizations for the best early education experience that strengthens the Discovery Driven Learning emergent curriculum and contributes to adventures in learning. Bright Horizons collaboration with Tinkergarten brings incredible outdoor learning resources to Bright Horizons families. Tinkergarten's play-based learning program helps kids develop the physical, cognitive, and social-emotional skills they need to thrive in today's dynamic world.

To learn more about Bright Horizons' early education partners, visit here.