Suffolk Construction Project Creates Unique Learning Opportunity for Children at Bright Horizons at Landmark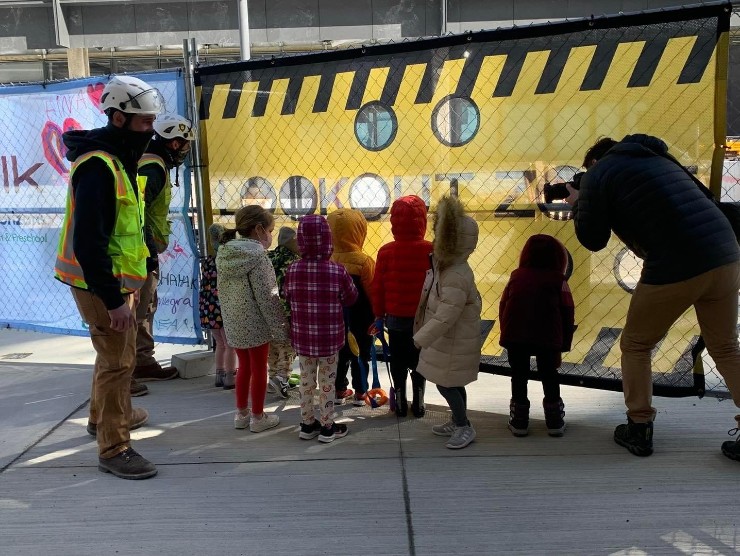 March 25, 2022 – Since 2017, the children and staff at Bright Horizons at Landmark in Boston, MA have had a front-row seat to the multi-phase Suffolk Construction project taking place outside of the center.
"Observing the different phases of the construction has become part of the children's daily routine. The various construction vehicles intrigue their curiosity," said Winnie Bordman, Center Director at Bright Horizons at Landmark. "The children come in and share with us what they saw on the way to school. It makes morning greetings and drop-off time engaging for the children and creates excitement for all of us as we start our day."
This past summer, the staff at the center decided to take advantage of this unique learning opportunity. As part of Bright Horizons STEM and visual and creative arts curriculum, they partnered with Suffolk Construction to create a virtual workshop for the preschool and kindergarten prep classrooms. Suffolk's project manager, field engineer and safety engineer taught the children how they design, draw and engineer the buildings around the center.
During the workshop, the children used similar drafting tools that the architect and engineers used to design the buildings, created their own blueprints and constructed their own version of the building using different art medians like playdough, recycled materials and plastic bricks. They also designed scrims to line the protective fences around the construction site.
"The virtual workshop supported the children's curiosity and Bright Horizons comprehensive whole-child curriculum," said Winnie. "For the children to interact directly with the Suffolk team and see their work being displayed on the scrim was an unforgettable learning experience."
In addition to the virtual workshop, Suffolk Construction created a "Look Out Zone" which is a designated area that lets the children see what is happening at the construction site.
To learn more about Bright Horizons at Landmark, visit here.