Sandy Cook Honored by City of San Diego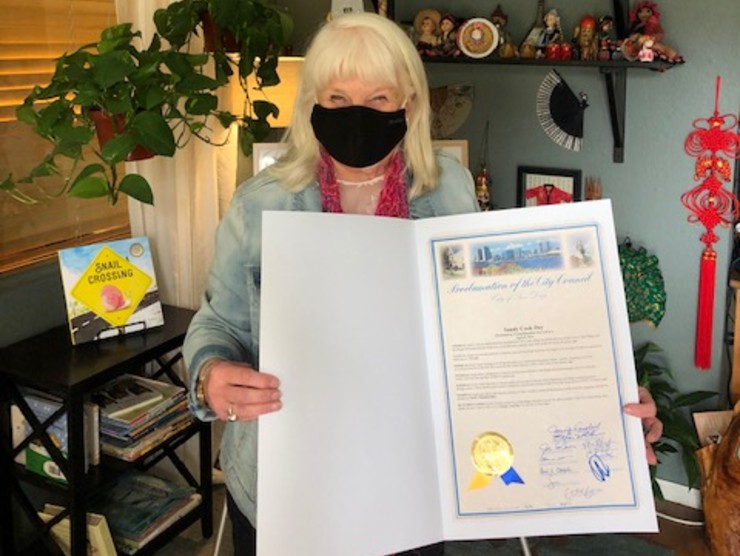 April 20, 2021 – Last week, Sandy Cook, Center Director at Bright Horizons at Del Mar in San Diego, CA, was honored with an official proclamation from the City of San Diego naming April 6th 'Sandy Cook Day'. Sandy has been an exceptional member of the Bright Horizons family for over the past 20 years and has devoted her life to being an early childhood educator.
"I started teaching in 1972. Kindergarten, first grade and then early childhood about 20 years ago. I never wanted to do anything else," said Sandy.
She adds, "There is nothing more rewarding than working with young children."
At Bright Horizons at Del Mar, where Sandy works, Sandy and her team of teachers make a promise to families to nurture, support, and encourage each child and to create a joyful place for childhood.
"One parent said, "You know how they say Disneyland is the happiest place on earth? Well I think it is Bright Horizons at Del Mar," said Sandy. "There is so much joy and happiness here."
Bright Horizons at Del Mar features unique outdoor classrooms that introduce the concepts of science and nutrition through musical garden and healthy cooking classes; play areas that promote social and physical growth; a science exploration center where children can practice hands-on experiments; an amphitheater to spark creativity; and even a water park for cooling off on hot days.
When asked about her recognition from the City Of San Diego, Sandy says she was amazed and overwhelmed.
"Sandy Cook has dedicated her professional life to being an educator, mentor, and role model for over 20 years at Bright Horizons," said Joe LaCava, Councilmember for Council District 1, City of San Diego. "Proclaiming April 6 as 'Sandy Cook Day' is a small token of our gratitude for her decades of contributions and service."
To learn more about Sandy's center, visit here.