From Preschool to College, Bright Horizons at Trumbull Alumni Create Friendships That Will Last a Lifetime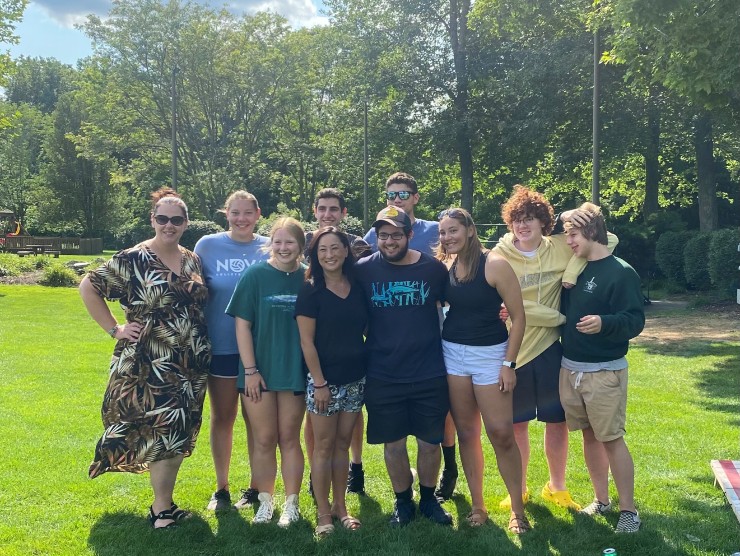 August 23, 2021 – Jeet Heslin credits his preschool years at Bright Horizons at Trumbull for his ability to easily make new friends. Little did he know that he would forge lasting friendships with a group of preschoolers from his time spent at Bright Horizons. Fifteen years later, this special group of friends are celebrating their high school graduations.

Their preschool teacher and current Center Director, Danielle Ranocchia, has stayed in touch with the group and their parents through social media. She was able to attend their celebration and congratulate them on their next chapter.

"As a preschool teacher on of our primary focuses is to teach the children be inclusive and how to make friends. It's such a rewarding feeling knowing that I created a special place for (these) children," said Danielle.

"We have all been friends for most of our lives," said Bright Horizons at Trumbull alumnus Jeet Heslin. "We became friends one by one as we ended up in the same classrooms over time. Now that we all have our licenses, we see each other fairly often, sometimes a few times a week."

Jeet will be attending University of Delaware in the fall and attributes his experience at Bright Horizons with preparing him for his future.

Bright Horizons prepares children to be ready for their journey from child care and into school programs by focusing equally on all aspects of development: cognitive, physical, and social-emotional. As key part of this is building their social-emotional skills like meeting new people, separating from parents, managing feelings, and sharing, joining into play. This approach gives children their best chance for healthy, happy, successful lives.

"My time at BH helped me learn to make friends. It was the first place I remember consistently meeting new people," said Jett. "Having those kind of experiences at a young age prepared me to go into higher levels of school and eventually into athletics knowing that even though I don't know anyone now, I would be able to make friends by the time I would be leaving at the end of day one."

Although the group is going their separate ways for college, their bond will last a lifetime.

Jeet said: "These friendships are both memories and connections that will last a lifetime, whether it's just our next get together or we happen to see each other in a completely random place 20 years from now I believe we would pick up right where we left off."

To learn more about school readiness at Bright Horizons, visit here.