Bright Horizons at Louisville's New Mural Shares Message of Diversity and Inclusion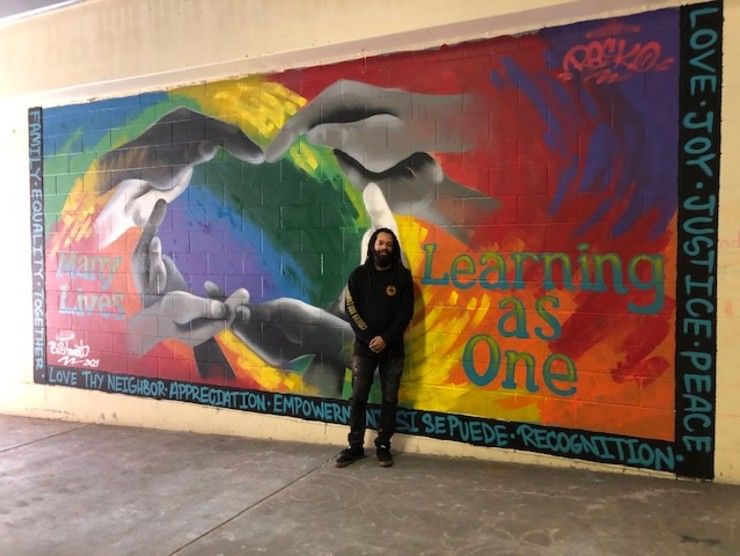 March 31, 2021 – During the height of the pandemic, Airin Roby, Center Director at Bright Horizons at Louisville, would ride her bike through downtown Louisville, KY to get to work. With most of the city shut down, Airin started noticing inspiring artwork pop up on buildings along her bike route. This sparked her idea to add a mural to the wall outside the center.
"Between protests and most buildings being boarded up, and quarantine, the only life I saw was through art painted on buildings throughout the city," she said. "I wanted to find a way to share a message like ones that impacted me; one of hope and unity through art that would last, and particularly one that our families, children, and staff in our centers could feel every day."
With the support and approval from the Bright Horizons Foundation, Airin reached out to local artist Braylyn "Resko" Stewart to create a mural with a message of diversity and inclusion, an integral part of Bright Horizons' teaching and culture.
In the spirit of inclusivity, center families were asked to give staff one word that describes how Bright Horizons at Louisville incorporates diversity and inclusion in their children's lives. Resko used their words like appreciation and recognition and added them as a framework painted around the mural of hands depicting many lives learning as one. The families were also able to lend additional support by donating to the cost of the mural.
"The beautiful new mural at our center is an important addition to the downtown Louisville community and further supports Bright Horizons' commitment to Diversity, Equity, and Inclusion," said Airin.