Bright Horizons Continues to Support Bay Area Families and Organizations Throughout the Pandemic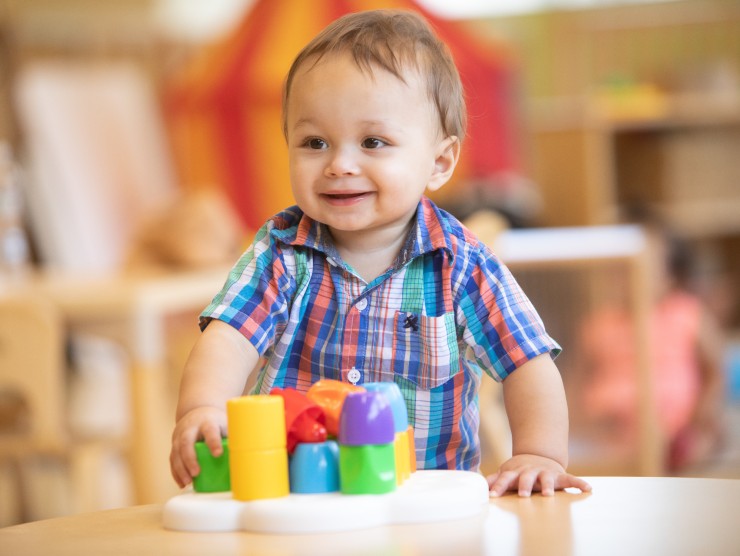 May 11, 2021 – At the beginning of the pandemic, Bright Horizons joined Harvard School of Public Health, Thrive Global, and CAA to open special child care hubs for infants and children up to 6 years old across the U.S. to meet the needs of first responders. Aptly named the FirstRespondersFirst initiative, child care was offered at no cost to families of frontline health care workers and first responders.
Bright Horizons opened a total of eight child care centers in Seattle, Detroit and Washington D.C., then working with long-time partner and client CISCO to open centers in San Jose, Cary, Dallas, and Birmingham.
George Israel's youngest son currently attends Bright Horizons at Los Gatos but during the early onset of the pandemic George and his wife, Micaela Jett, a Development Pediatrician with The Permante Medical Group at Kaiser Santa Clara, were worried about finding child care for all three of their children. The FirstRespondersFirst center on CISCO's campus in Silicon Valley was their family's lifeline. It enabled both George and Micaela to continue to go to work while knowing their children were being taken care of in a safe environment.
"As parents it was piece of mind, in that we knew we could trust Bright Horizons to implement and follow proper COVID-19 protocols while also enable the kids to still have a great time," said George. "The kids still talk about the experience and it was almost a year ago! And because of their unforgettable experience we decided to enroll our youngest at Los Gatos."
In addition to FirstRespondersFirst, Bright Horizons has started supporting other early child care and education organizations in the Bay Area, specifically Children's Council of San Francisco, which was introduced to Bright Horizons by George and fellow Bright Horizons parent Tobias Siegel.
Founded in 1973 by Tobias' mother Patty Siegel, Children's Council is one of the nation's first organizations dedicated to helping families navigate their early care and education choices. They ensure that every child in San Francisco has the opportunity to reach their full potential. Every year the Children's Council helps families explore child care options, provides low-income families with financial assistance for child care, and supports licensed early education programs with trainings.
"Now that I have a child in preschool, I wanted to help support the mission of the Children's Council and my Mom's legacy as a pioneer and advocate for affordable, quality child care for the children and working families in San Francisco and nationwide," said Tobias.
The Children's Council upcoming annual fundraiser, Child Care Champions Showcase + Auction, spotlights the importance of early care and education for San Francisco families and employers - which has never been more apparent. It will honor the child care champions who have been so essential to the community this past year. Bright Horizons is participating as an Early Education Champion sponsor.

"Bright Horizons is grateful for the Children's Council of San Francisco as we support one another to ensure quality child care and education is shared within the Bay Area community," said Monica Schmitz, Regional Manager at Bright Horizons. "We continually refer families to them for their services and many of our teachers have attended their workshops which have aided in their growth and development as early childhood educators."

To learn more about Child Care Champions Showcase + Auction, visit here.