Bright Horizons Teacher Transforms STEAM Lab with Innovative Approach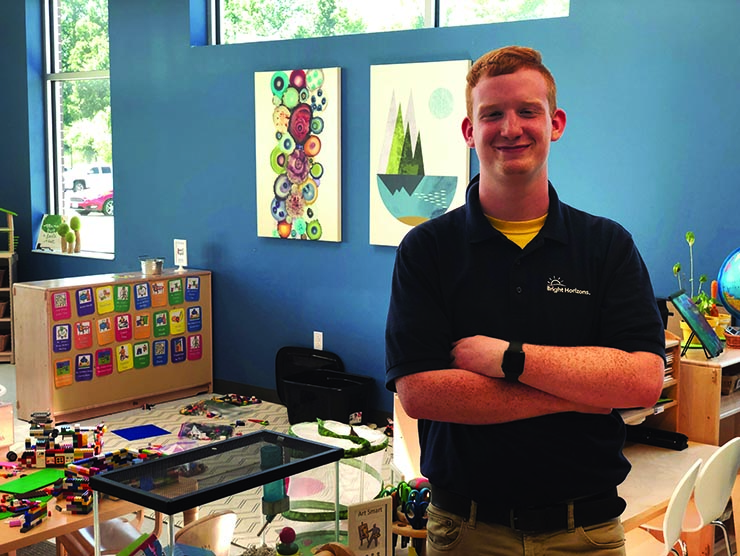 March 5, 2020 – Teacher Yuri Ray at Bright Horizons' Superior Children's Center in Farmington, Missouri was featured in Mineral Area College Magazine for uncovering a career path in early childhood education. After taking an "Intro to Child Development" course to receive the final credits needed for high school graduation, Yuri was inspired to enter the field. While taking college classes, Yuri started working for the on-site early education and preschool center for Centene Corporation employees, which solidified his belief that he was meant to teach.
Yuri works at the Superior Children's Center running the center's STEAM (Science, Technology, Engineering, Arts, and Mathematics) lab. Yuri uses innovative methods to teach to the children's interests, whether that is building a chemistry lab to learn about oil and vinegar, or conducting experiments on snow after winter storms. Yuri has discovered this passion for teaching and is currently earning his Associate's Degree with Mineral Area College. After graduating, Yuri plans to use the Horizons program through Bright Horizons to earn his Bachelor's degree in the field of early childhood education for free.
"Some think pre-school is babysitting," Yuri told the Alumni Magazine. "It's so much more. Kids are at different stages in their development and our focus is to prepare them to smoothly integrate into kindergarten… I love what I'm doing. Working here makes me understand the difference between a job and a career. The center's teamwork-focused environment and my amazing coworkers create an exceptional workplace."
Center Director of Superior Children's Center Nicki Ballew says, "The STEAM lab has given Yuri his ability to find passions that he didn't even know he had. Yuri goes above and beyond in the classroom, and is destined to have a bright future in the field of early childhood education. Balancing being a full-time teacher and student is not an easy task, and Yuri excels at both."
Read more about Yuri's story here.
Photo Credit: Peggy Ropelle Shared with Permission from Mineral Area College Magazine.