LEGO Masters Contestant Inspires Love of STEM Beyond TV into His Classroom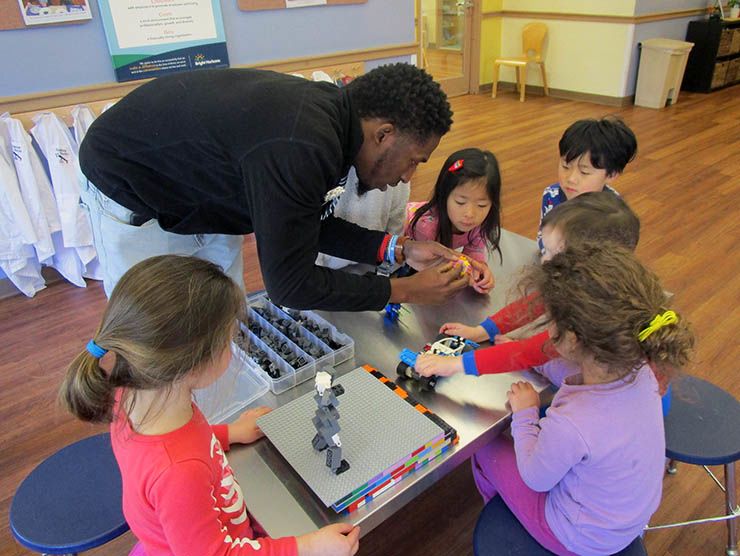 February 24, 2020 – Travis Samuels, teacher at Bright Horizons at Giralda Farms in Madison, New Jersey and contestant on Fox's LEGO Masters, garnered media coverage in TAP into Morristown and Essex News Daily for using his love for building to inspire STEM learning in his classroom of preschoolers.
Travis and his brother Corey, dubbed the "Brothers who Brick," competed on this season's LEGO Masters, a building competition using LEGOs to complete weekly challenges for the title of 'LEGO Masters.' Travis developed a love for LEGOs when he battled leukemia as a child. He and his brother spent hours building with LEGOs as Travis was unable to go outside to play. At a young age, Travis also knew that he had a passion for early education so it is a dream come true for him to be able to use his love of LEGOs to teach his students about STEM (Science, Technology, Engineering, and Mathematics).
In his classroom, Travis uses LEGOs to teach the children about architecture and engineering, whether it be through creating a building foundation or manipulating blocks and gears to make objects move.
"There's not a wrong way to build with LEGOs," said Travis. "I want to show my kids and their parents how LEGOs can be incorporated into different STEM activities. Kids can do amazing things when you put bricks in their hands."
"We're very proud of Travis," said Center Director Jane Windt. "The teachers, the kids and the families have been so excited about him competing on the show. We even had a LEGO celebration with LEGO-themed cupcakes and bracelets to kick it off his appearance. And each week, the families would touch base to see how he did."
Beverly Basham, Bright Horizons Regional Manager, also spoke to the TAP into Morristown, saying, "I think his understanding of children working in the center, teaching them creativity, engineering and motor skills, has brought him the opportunity to show how LEGOs can incorporate so much learning into children. And the kids themselves were excited to see their teacher on 'LEGO Masters.'"
Read the full stories from TAP into Morristown and Essex News Daily.
Photo credit: Anthony Lusardi. Shared with permission from TAP into Morristown.